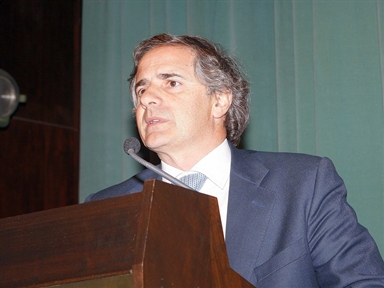 URL:
Date: 27/11/2007
Presenter:
The coastal areas are highly dynamic and present a great variability along relatively short time periods, which produce a great fragility and vulnerability against any kind of external pressure, whether it is of natural or human origin. In this context, the impact of climate change over them can have consequences of great relevance, and in many occasions, irreversible. In the conference we will address the main impacts that climate change can have over the coastal areas, focusing on the physical aspects and the possible consequences over the biotic and social-economic environment.
We will review the effects that climate change can have over the agents "modeling" our coasts, showing trends that have been observed in our coasts along the last decades and extrapolating them to the horizon of year 2050. From there we will show the detailed results of the expected impacts in our coasts. Finally, we will address the different adaptation strategies needed to face these impacts.
Según lo previsto en la Ley 34/2002 de Servicios de la Sociedad de la Información y de Comercio Electrónico, en la Ley Orgánica 15/1999 del 13 de Diciembre, de Protección de Datos de Carácter Personal y en el Reglamento (UE) 2016/679 General de Protección de Datos, le informamos que sus datos personales figurarán en nuestros archivos automatizados. Sus datos no son ni serán en ningún caso suministrados a terceros. Puede en cualquier momento ejercitar su derecho de acceder, rectificar, de oposición al uso y, en su caso, cancelar sus datos personales comunicando al correo electrónico privacidad@march.es la operación a realizar. Más información sobre nuestra política de privacidad.