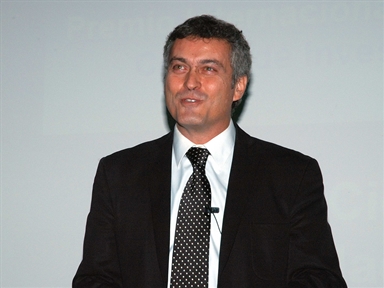 URL:
Date: 4/12/2007
Presenter:
Our preferred species, that which call itself intelligent, has been inhabiting the planet for tens of thousands of generations. But it has only been eight generations, after someone Watt perfected the machine designed by Newcomen, since the Homo sapiens learned how to use the energy of the sun, condensed in the shape of fossil fuel to feed a social metabolism that has not ceased to grow since then. Our irrational and excessive energy consumption and our addiction to fossil fuels (which represent 85% of the energy we consume) are leading us to a slow but irremediable unprecedented double crisis cause by the intertwined problems of energy and environment.
This conference will analyze the interrelation of the energy consumption and the environmental problems, and, due to the lack of magical solutions, will review some of the actions that should be started and the possible alternatives to our energetic model.
Según lo previsto en la Ley 34/2002 de Servicios de la Sociedad de la Información y de Comercio Electrónico, en la Ley Orgánica 15/1999 del 13 de Diciembre, de Protección de Datos de Carácter Personal y en el Reglamento (UE) 2016/679 General de Protección de Datos, le informamos que sus datos personales figurarán en nuestros archivos automatizados. Sus datos no son ni serán en ningún caso suministrados a terceros. Puede en cualquier momento ejercitar su derecho de acceder, rectificar, de oposición al uso y, en su caso, cancelar sus datos personales comunicando al correo electrónico privacidad@march.es la operación a realizar. Más información sobre nuestra política de privacidad.