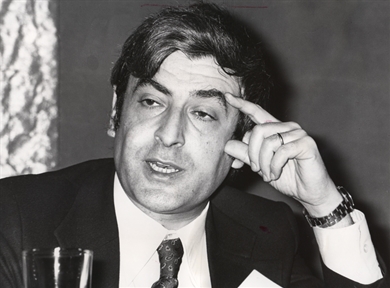 Lecture Series

La ciencia en la sociedad española moderna y contemporánea (III)

"The Spanish society of the 17th and 18th century, and the scientific revolution"
URL:
«La problemática de la instalación de nuestro país en el mundo moderno y concretamente en lo referente a la ciencia, se ha convertido en una cuestión tan directamente dependiente de apriorismos ideológicos, que ha sido generalmente abordada como mera excusa para proyectar los más variados supuestos políticos, religiosos o filosóficos sobre nuestro pasado histórico. Somos quizá el último pais del mundo en el que la historia de la ciencia no ha alcanzado aún carta de naturaleza y un minimo grado de institucionalización.» Con estas palabras el profesor don José María López Piñero inició el curso universitario sobre «La ciencia en la sociedad española moderna y contemporánea», impartido el pasado mes de febrero en la Fundación Juan March. Integrado por cuatro lecciones, el profesor López Piñero trató sucesivamente los siguientes temas: «La estratificación social y el cultivo de la ciencia en la España del siglo XVI»; «Tradición y renovación en la actividad científica española del siglo XVI»; «La sociedad española de los siglos XVII y XVIII y la revolución científica»; y «La marginación de la ciencia en la España contemporánea».
Según lo previsto en la Ley 34/2002 de Servicios de la Sociedad de la Información y de Comercio Electrónico, en la Ley Orgánica 15/1999 del 13 de Diciembre, de Protección de Datos de Carácter Personal y en el Reglamento (UE) 2016/679 General de Protección de Datos, le informamos que sus datos personales figurarán en nuestros archivos automatizados. Sus datos no son ni serán en ningún caso suministrados a terceros. Puede en cualquier momento ejercitar su derecho de acceder, rectificar, de oposición al uso y, en su caso, cancelar sus datos personales comunicando al correo electrónico privacidad@march.es la operación a realizar. Más información sobre nuestra política de privacidad.