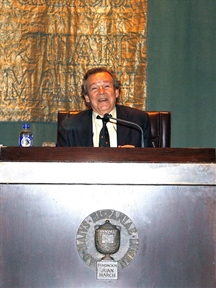 Where did all the flowers go?
URL: https://www.march.es/conferencias/anteriores/voz.aspx?p1=22506&l=2
Date: 24/04/2008
Presenter: Lucía Franco
Duration: 64
The colorful pacifism of the hippies, the environmentalism, the "revolutionary" demonstration of the French May of 68 under the slogan "Imagination to power", were the flags for many young European and Americans since the mid 60's. Under the title Berkeley-Paris: forty years of counterculture, this series of three conferences will propose an equal number of views on that cultural and existential "utopia".