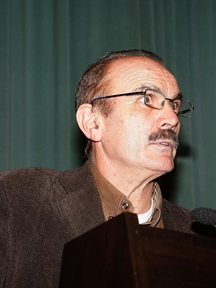 URL:
Date: 4/11/2008
Presenter:
Director: Eudald Carbonell
Our origin is related to certain biological and cultural acquisitions, among which the use of technology and social cohesion are the most relevant. We have been able to distribute throughout the entire planet, with an unstoppable increase in cultural complexity linked to very changing socio-economic expressions. The technological development that started 26 million years ago has allowed us to progressively overcome Natural Selection and to set technical selection as the main mechanism of our cultural and biological development. This course has been structured into four areas with two conferences each: the animal and ethological part, the human social reality, its symbolic dimension, and the aspects of economical organization. All human reality, including the construction of cities, is based in these traits so specifically human.
Según lo previsto en la Ley 34/2002 de Servicios de la Sociedad de la Información y de Comercio Electrónico, en la Ley Orgánica 15/1999 del 13 de Diciembre, de Protección de Datos de Carácter Personal y en el Reglamento (UE) 2016/679 General de Protección de Datos, le informamos que sus datos personales figurarán en nuestros archivos automatizados. Sus datos no son ni serán en ningún caso suministrados a terceros. Puede en cualquier momento ejercitar su derecho de acceder, rectificar, de oposición al uso y, en su caso, cancelar sus datos personales comunicando al correo electrónico privacidad@march.es la operación a realizar. Más información sobre nuestra política de privacidad.