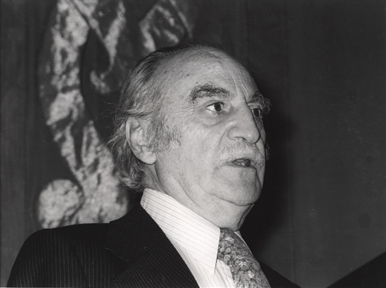 Lecture Series

El escritor y la sociedad (IV)

(and IV) "The dissolution of the novelistic genre in the mass society: prospects for the future"
URL:
El escritor y la sociedad ha sido el tema central del curso impartido por el novelista y catedrático de la Universidad de Nueva York, Francisco Ayala, el pasado febrero en la Fundación. A lo largo de cuatro lecciones, Francisco Ayala ha tratado sobre «La función del escritor como problema socio-cultural», «La novela, exponente de la modernidad», «El papel del novelista en el contexto de la sociedad burguesa» y «La disolución del género novelesco en la sociedad de masas: perspectivas de futuro»
Según lo previsto en la Ley 34/2002 de Servicios de la Sociedad de la Información y de Comercio Electrónico, en la Ley Orgánica 15/1999 del 13 de Diciembre, de Protección de Datos de Carácter Personal y en el Reglamento (UE) 2016/679 General de Protección de Datos, le informamos que sus datos personales figurarán en nuestros archivos automatizados. Sus datos no son ni serán en ningún caso suministrados a terceros. Puede en cualquier momento ejercitar su derecho de acceder, rectificar, de oposición al uso y, en su caso, cancelar sus datos personales comunicando al correo electrónico privacidad@march.es la operación a realizar. Más información sobre nuestra política de privacidad.