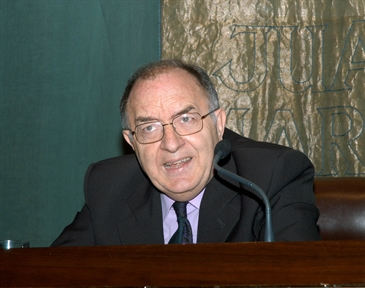 URL:
Date: 27/04/2010
Presenter:
The Holy Office has been historically one of the topics that more as tormented the conflictive memory of the Spaniards, as it opened a separation pit between the persecuted and persecutors which has left sequels in the civil war tendency of our country. The Inquisition starts becoming history even before it was ended. In the framework of the political debate for the future, in the Courts of Cadiz along 1811, already the historians discussed the controversy of the past history of the Inquisition. Llorente and Puigblanc played rough with different arguments against the Inquisition; Vélez and Alvarado declared themselves totally in favor of the continuation of the Holy Office based on its past merits. The abolition of the Inquisition was swift and Fernando VII reinstalled it in 1814. The dialectics of the historians in regards to the Inquisition before its final suppression in 1834, will be conditioned by the beginning of the Carlist wars. Until the Restoration, the historiographic debate on the Inquisition will become the great controversy about the religious tolerance in Spain. The historian will be divided into positions of the catholic-conservative canon and the liberal. National Catholicism and Anticlericalism face to face.
But beyond the division of ideologies, it will also become quite visible a historical memory that will be contaminate the ideological canonical archetypes of one an other shore. The thoughts of Modesto Lafuente in this sense are very significant. In this conference we will follow the trajectory of the historians' positions in regards to the Inquisition: its defenders, its critics, and the third path that punishes the Inquisition from timidly liberal catholicism.
Según lo previsto en la Ley 34/2002 de Servicios de la Sociedad de la Información y de Comercio Electrónico, en la Ley Orgánica 15/1999 del 13 de Diciembre, de Protección de Datos de Carácter Personal y en el Reglamento (UE) 2016/679 General de Protección de Datos, le informamos que sus datos personales figurarán en nuestros archivos automatizados. Sus datos no son ni serán en ningún caso suministrados a terceros. Puede en cualquier momento ejercitar su derecho de acceder, rectificar, de oposición al uso y, en su caso, cancelar sus datos personales comunicando al correo electrónico privacidad@march.es la operación a realizar. Más información sobre nuestra política de privacidad.