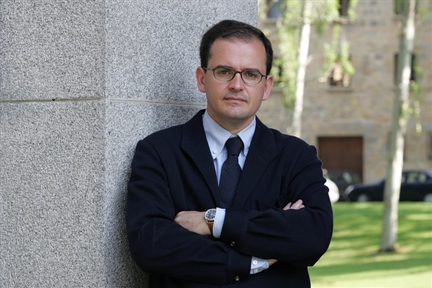 Along his short life, Kafka wrote three novels, several tales and two dozens of masterful stories. He also kept a diary and extensive correspondence, whose value has been becoming more and more acknowledged. Once we briefly describe his literary milestones in order to offer a significant introduction to the author's work, we will address the following issues:
-Realism and symbolism in the Kafkaesque narration. A short study of Kafka's specific literary method.
-Main traits of the Kafkaesque work. The myth of Kafka.
-The interpretation of Kafka's work. Main trends. Interpretation problems.
-Interaction between the narrative and autobiographic works.
-The importance and posterior influence of Kafka's work: Its centrality within contemporary literature.
-The Kafkaesque bestiary
Según lo previsto en la Ley 34/2002 de Servicios de la Sociedad de la Información y de Comercio Electrónico, en la Ley Orgánica 15/1999 del 13 de Diciembre, de Protección de Datos de Carácter Personal y en el Reglamento (UE) 2016/679 General de Protección de Datos, le informamos que sus datos personales figurarán en nuestros archivos automatizados. Sus datos no son ni serán en ningún caso suministrados a terceros. Puede en cualquier momento ejercitar su derecho de acceder, rectificar, de oposición al uso y, en su caso, cancelar sus datos personales comunicando al correo electrónico privacidad@march.es la operación a realizar. Más información sobre nuestra política de privacidad.