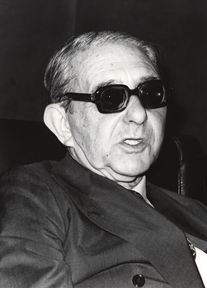 Lecture Series

La literatura española del siglo XX: su trasfondo ideológico y social (III)

"The crisis of the avant-gardes""
URL:
«Hay que reconocer que hoy la sociedad española es mucho más victima del consumismo de lo que seria deseable, y que los tan esperados frutos de esa libertad intelectual por la que tanto tiempo se ha clamado, o no están todavía maduros o no existen. No dudo que se escríban grandes obras, pero sí de que tengan la respuesta popular y social que tienen, en otros países, obras equivalentes», dijo el novelista y académico Gonzalo Torrente Ballester en el curso que sobre el tema «La literatura española del siglo XX: su trasfondo ideológico y social», ha impartido en la sede de la Fundación Juan March del 21 al 30 de noviembre pasado. A lo largo de sus cuatro lecciones, Torrente trató de «La supervivencia del siglo XIX», «La aparición de los ismos», «La crisis de las vanguardias» y «El mundo de la posguerra».
Según lo previsto en la Ley 34/2002 de Servicios de la Sociedad de la Información y de Comercio Electrónico, en la Ley Orgánica 15/1999 del 13 de Diciembre, de Protección de Datos de Carácter Personal y en el Reglamento (UE) 2016/679 General de Protección de Datos, le informamos que sus datos personales figurarán en nuestros archivos automatizados. Sus datos no son ni serán en ningún caso suministrados a terceros. Puede en cualquier momento ejercitar su derecho de acceder, rectificar, de oposición al uso y, en su caso, cancelar sus datos personales comunicando al correo electrónico privacidad@march.es la operación a realizar. Más información sobre nuestra política de privacidad.