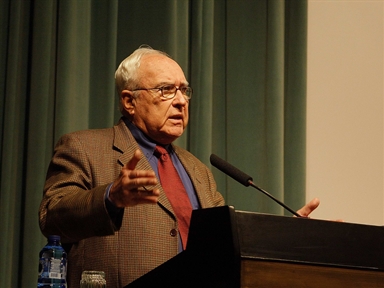 URL:
Date: 31/05/2011
Presenter:
Flesh and the Devil (El demonio y la carne, USA, 1927) by Clarence Brown, featuring Greta Garbo and John Gilbert. (116 minutes)
Presentation: Román Gubern
Flesh and the Devil by Clarence Brown was the North American film that turned Greta Garbo into the "Divine". She played a femme fatale, a devastating vamp capable of ruining masculine loyalties, but her erotism as very stylized. She starred together with John Glbert and in two famous scenes they reinvented the technique of kissing in front of the camera.
Según lo previsto en la Ley 34/2002 de Servicios de la Sociedad de la Información y de Comercio Electrónico, en la Ley Orgánica 15/1999 del 13 de Diciembre, de Protección de Datos de Carácter Personal y en el Reglamento (UE) 2016/679 General de Protección de Datos, le informamos que sus datos personales figurarán en nuestros archivos automatizados. Sus datos no son ni serán en ningún caso suministrados a terceros. Puede en cualquier momento ejercitar su derecho de acceder, rectificar, de oposición al uso y, en su caso, cancelar sus datos personales comunicando al correo electrónico privacidad@march.es la operación a realizar. Más información sobre nuestra política de privacidad.