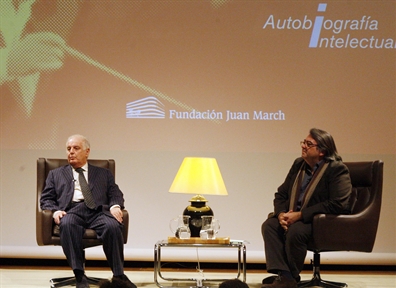 URL:
Date: 19/01/2012
Presenter:
Daniel Barenboim, piano player and orchestra director considered as one of the most prominent figures in the musical landscape of our time, for whom, in agreement with the title of one of his books, "sound is life", will come to the Fundación Juan March to speak about his trajectory. And he will do so by dialoguing with the journalist and writer Jesús Ruiz Mantilla.
Auditorium, 21:00 hours
From 20:30 hours several videos related to the artistic activity of master Barenboim will be projected.
Según lo previsto en la Ley 34/2002 de Servicios de la Sociedad de la Información y de Comercio Electrónico, en la Ley Orgánica 15/1999 del 13 de Diciembre, de Protección de Datos de Carácter Personal y en el Reglamento (UE) 2016/679 General de Protección de Datos, le informamos que sus datos personales figurarán en nuestros archivos automatizados. Sus datos no son ni serán en ningún caso suministrados a terceros. Puede en cualquier momento ejercitar su derecho de acceder, rectificar, de oposición al uso y, en su caso, cancelar sus datos personales comunicando al correo electrónico privacidad@march.es la operación a realizar. Más información sobre nuestra política de privacidad.