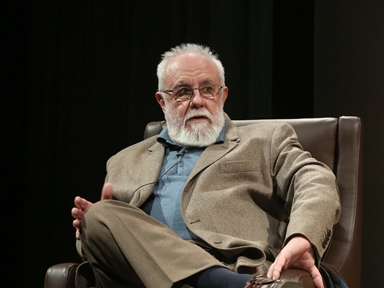 The filmmaker and writer from Asturias Gonzalo Suárez, awarded with the Premio Nacional de Cinematografía and the Medalla de Oro de Bellas Artes among other prizes, will star in this new session of "Fundación Conversations" together with the journalist Antonio San José. Gonzalo Suárez wrote and starred in several theatrical plays, and also was a painter. Later he devoted his life to journalism, narration, and cinema. Within his cinematrographical work we can highlight the titles Remando al viento (1988) and El detective y la muerte (1994). As a narrator, his last novel has been El síndrome de albatros (2011). In Las fuentes del Nilo (2011) he compiles his short narrative.
Along the interview, San José will request the guest to make three proposals, which from his perspective could contribute to improve society. The dialogue will be complemented with projection of images related to the activity of the filmmaker.
Según lo previsto en la Ley 34/2002 de Servicios de la Sociedad de la Información y de Comercio Electrónico, en la Ley Orgánica 15/1999 del 13 de Diciembre, de Protección de Datos de Carácter Personal y en el Reglamento (UE) 2016/679 General de Protección de Datos, le informamos que sus datos personales figurarán en nuestros archivos automatizados. Sus datos no son ni serán en ningún caso suministrados a terceros. Puede en cualquier momento ejercitar su derecho de acceder, rectificar, de oposición al uso y, en su caso, cancelar sus datos personales comunicando al correo electrónico privacidad@march.es la operación a realizar. Más información sobre nuestra política de privacidad.