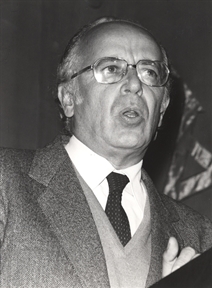 Lecture Series

La filosofía en el lenguaje (III)

"Modern philosophy language. The letter of the world and the creation of subjectivity"
URL:
«Se ha decretado la muerte o marginación de la Filosofía en nuestro mundo tecnológico y científico y es un hecho que la Filosofía debe ir en busca de su semántica perdida y que ello sólo podrá lograrse dándole un nuevo carácter emancipatorio. Las tres famosas preguntas kantianas que se plasman en el horizonte del saber, hacer y esperar aparecen en nuestro magma social con más acritud y desesperanza que nunca. Si hoy el conocimiento está en manos de la ciencia, ¿por qué no dejar a la Filosofía el sueño utópico?». Asi ve el porvenir de la Filosofía el catedrático de Historia de la Filosofía de la Universidad a Distancia, Emilio Lledó, quien del 11 al 20 de noviembre pasado imr partió en la sede de la Fundación un curso de cuatro lecciones sobre el tema «La Filosofía en el lenguaje».
Según lo previsto en la Ley 34/2002 de Servicios de la Sociedad de la Información y de Comercio Electrónico, en la Ley Orgánica 15/1999 del 13 de Diciembre, de Protección de Datos de Carácter Personal y en el Reglamento (UE) 2016/679 General de Protección de Datos, le informamos que sus datos personales figurarán en nuestros archivos automatizados. Sus datos no son ni serán en ningún caso suministrados a terceros. Puede en cualquier momento ejercitar su derecho de acceder, rectificar, de oposición al uso y, en su caso, cancelar sus datos personales comunicando al correo electrónico privacidad@march.es la operación a realizar. Más información sobre nuestra política de privacidad.