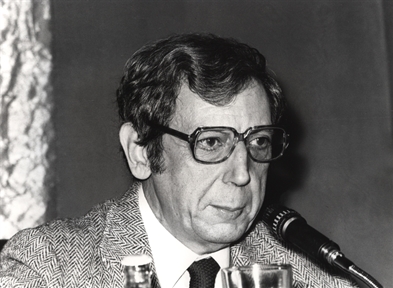 Lecture Series

La literatura, en peligro (II)

"Literature and the times of the great revolutions"
URL:
«La literatura se ha convertido hoy en un deber cultural, en una asignatura; lo que en mis tiempos se sentía como un placer casi prohibido se ha vuelto una obligación. Son varios los peligros que acechan a la literatura en nuestra época: no sólo se lee una pequeña parte de lo que se compra, sino que el imperio de la informática, que todo lo computa, el descrédito de la memoria, de la palabra oida y dicha en voz alta, en aras de la imagen, y, para el escritor, la exacerbada conciencia del lenguaje que le lleva al puro juego literario, son graves peligros que pueden acabar con la literatura.» Asi ve la situación actual el poeta y profesor José María Valverde, quien impartió, del 27 de octubre al 5 de noviembre pasados, en la sede de la Fundación, un ciclo de conferencias, con el titulo «La literatura, en peligro».
Según lo previsto en la Ley 34/2002 de Servicios de la Sociedad de la Información y de Comercio Electrónico, en la Ley Orgánica 15/1999 del 13 de Diciembre, de Protección de Datos de Carácter Personal y en el Reglamento (UE) 2016/679 General de Protección de Datos, le informamos que sus datos personales figurarán en nuestros archivos automatizados. Sus datos no son ni serán en ningún caso suministrados a terceros. Puede en cualquier momento ejercitar su derecho de acceder, rectificar, de oposición al uso y, en su caso, cancelar sus datos personales comunicando al correo electrónico privacidad@march.es la operación a realizar. Más información sobre nuestra política de privacidad.