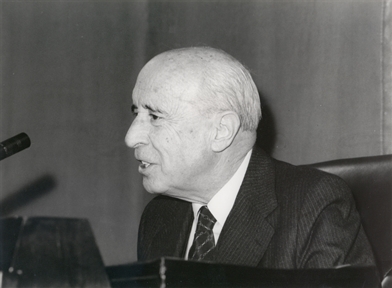 Lecture Series

Sociedad y literatura picaresca en el barroco español (II)

"Dissociation of the picaro: family, political community, Church"
URL:
Restituir el significado —distorsionado por la fantasía popular y por parte de la critica— de la figura del picaro, tipo social producto de la sociedad barroca española del siglo XVII, fue el objetivo de José Antonio Maravall, catedrático de Historia del Pensamiento Político y Social en España de la Facultad de Ciencias Politicas y Sociología de la Universidad Complutense, en un ciclo de conferencias que impartió del 30 de noviembre al 9 de diciembre pasados, en la Fundación Juan March, bajo el titulo de «Sociedad y literatura picaresca en el Barroco español». A lo largo de cuatro lecciones, el profesor Maravall explicó la interconexión entre el personaje que protagoniza el relato picaresco y la sociedad del XVII, que generó, en su opinión, una elevada movilidad social y que, al tiempo que ofrecía a todos falsas esperanzas de medrar, fue una sociedad conflictiva, represiva y de cierre, que negó un lugar a los marginados, entre los que figuraba el picaro.
Según lo previsto en la Ley 34/2002 de Servicios de la Sociedad de la Información y de Comercio Electrónico, en la Ley Orgánica 15/1999 del 13 de Diciembre, de Protección de Datos de Carácter Personal y en el Reglamento (UE) 2016/679 General de Protección de Datos, le informamos que sus datos personales figurarán en nuestros archivos automatizados. Sus datos no son ni serán en ningún caso suministrados a terceros. Puede en cualquier momento ejercitar su derecho de acceder, rectificar, de oposición al uso y, en su caso, cancelar sus datos personales comunicando al correo electrónico privacidad@march.es la operación a realizar. Más información sobre nuestra política de privacidad.