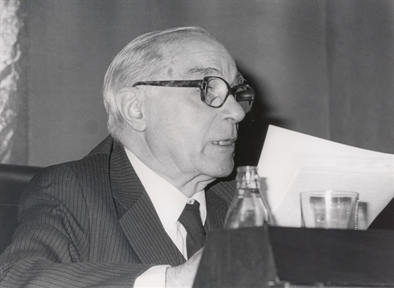 Lecture Series

Poesía lírica del Siglo de Oro. Los géneros (IV)

"'Enfados' and 'contentos': cultured and popular poetry"
URL:
Date: 27/02/1986
Presenter:
"El catedrático de Historia del Español y académico Rafael Lapesa dio, entre los días 18 y 27 de febrero, un curso universitario en la Fundación Juan March sobre «Poesía lírica del Siglo de Oro: los géneros», en el que se ocupó de «Herencia de los cancioneros cuatrocentistas»; «Géneros de la poesía ítalo-clásica en España» y «Fortuna de una canción petrarquesca en la lírica peninsular».
Tras hacer una detallada introducción al tema y referirse en concreto a los más importantes géneros líricos, el profesor Lapesa completó su intervención con el comentario de diversos textos españoles y portugueses."
Según lo previsto en la Ley 34/2002 de Servicios de la Sociedad de la Información y de Comercio Electrónico, en la Ley Orgánica 15/1999 del 13 de Diciembre, de Protección de Datos de Carácter Personal y en el Reglamento (UE) 2016/679 General de Protección de Datos, le informamos que sus datos personales figurarán en nuestros archivos automatizados. Sus datos no son ni serán en ningún caso suministrados a terceros. Puede en cualquier momento ejercitar su derecho de acceder, rectificar, de oposición al uso y, en su caso, cancelar sus datos personales comunicando al correo electrónico privacidad@march.es la operación a realizar. Más información sobre nuestra política de privacidad.