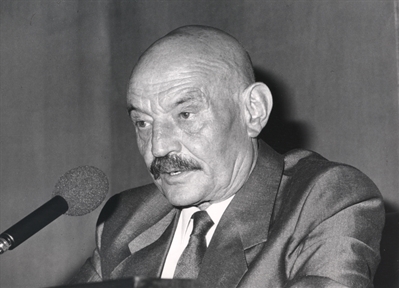 Lecture Series

Cuatro divagaciones sobre poesía y poetas (III)

(III) "North and South: Gerardo Diego and Rafael Alberti"
URL:
"José Hierro
CUATRO DIVAGACIONES SOBRE POESIA Y POETAS
«Los temas de las cuatro charlas no resultan atractivos por su escasa novedad. Es cierto que pude haber elegido otros temas, otros nombres poco o nada conocidos sobre los que pude haber aportado datos inéditos, documentos curiosos. Pero, no, hablaré de lo que todos conocen ya. Lo único que pretendo es ofrecer algunos puntos de vista de lector que es, también, en un plano muy inferior al de los que constituyen el tema de mis charlas, poeta.» Con estas palabras, José Hierro, poeta como él mismo se calificaba, inició en la Fundación Juan March un ciclo titulado «Cuatro divagaciones sobre poesía y poetas», que impartió en cuatro sesiones: el 4 de mayo habló de «Rubén Darío, maestro mágico»; el 5, de «Poesía en prosa: Juan Ramón Jiménez»; el 9, de «Norte y sur: Gerardo Diego y Rafael Alberti»; y el 11, de «Un poeta para un tiempo: Gabriel Celaya»."
Según lo previsto en la Ley 34/2002 de Servicios de la Sociedad de la Información y de Comercio Electrónico, en la Ley Orgánica 15/1999 del 13 de Diciembre, de Protección de Datos de Carácter Personal y en el Reglamento (UE) 2016/679 General de Protección de Datos, le informamos que sus datos personales figurarán en nuestros archivos automatizados. Sus datos no son ni serán en ningún caso suministrados a terceros. Puede en cualquier momento ejercitar su derecho de acceder, rectificar, de oposición al uso y, en su caso, cancelar sus datos personales comunicando al correo electrónico privacidad@march.es la operación a realizar. Más información sobre nuestra política de privacidad.