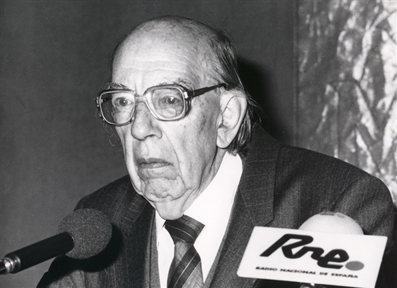 Lecture Series

Moral española de la democracia actual (1976-1990) (IV)

"The economic and political constraints of a demoralized morality"
URL:
"Jose Luis L. Aranguren
«MORAL ESPAÑOLA DE LA DEMOCRACIA ACTUAL»
Con el título de «Moral española de la democracia actual (1976-1990)», el profesor y ensayista José Luis Aranguren impartió del 6 al 13 de marzo, en la Fundación Juan March, un ciclo de conferencias, dentro de los «Cursos universitarios» de esta institución. Con estas charlas, el profesor Aranguren proseguía sus reflexiones sobre la moral social del siglo XIX, recogidas en su libro de 1966 Moral y Sociedad, esta vez referidas a la sociedad española del período que abarca desde la transición de la dictadura a la democracia, en 1976, hasta el momento actual, con todos los cambios y condicionamientos socio-económicos que se han ido produciendo."
Según lo previsto en la Ley 34/2002 de Servicios de la Sociedad de la Información y de Comercio Electrónico, en la Ley Orgánica 15/1999 del 13 de Diciembre, de Protección de Datos de Carácter Personal y en el Reglamento (UE) 2016/679 General de Protección de Datos, le informamos que sus datos personales figurarán en nuestros archivos automatizados. Sus datos no son ni serán en ningún caso suministrados a terceros. Puede en cualquier momento ejercitar su derecho de acceder, rectificar, de oposición al uso y, en su caso, cancelar sus datos personales comunicando al correo electrónico privacidad@march.es la operación a realizar. Más información sobre nuestra política de privacidad.