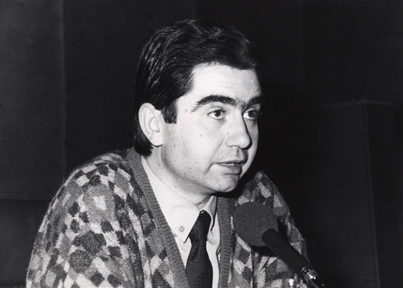 Lecture Series

Sobre la realidad de la ficción (I)

"The plot and the history"
URL:
Date: 22/01/1991
Presenter:
«Hasta hace no mucho tiempo, las reflexiones o las divagaciones que a lo largo de este curso voy a formular en público no se me habían pasado por la imaginación. Durante las tres cuartas partes de mi vida, leer, contar, escuchar y escribir han sido en mí pasiones tan poderosas que casi nunca me detuve a pensar en ellas». El resultado de estas reflexiones o divagaciones fueron las cuatro conferencias que dio —seguidas todas ellas de animado coloquio— Antonio Muñoz Molina, uno de los representantes más sólidos y con mejor recepción crítica y de lectores de la narrativa española actual, Premio Nacional de Literatura y Premio de la Crítica. El ciclo se titulaba «Sobre la realidad de la ficción» y lo dio en la Fundación Juan March los días 22 de enero («El argumento y la historia»), 24 («El personaje y su modelo»), 29 («La mirada y la voz») y 31 («La sombra del lector»).
Según lo previsto en la Ley 34/2002 de Servicios de la Sociedad de la Información y de Comercio Electrónico, en la Ley Orgánica 15/1999 del 13 de Diciembre, de Protección de Datos de Carácter Personal y en el Reglamento (UE) 2016/679 General de Protección de Datos, le informamos que sus datos personales figurarán en nuestros archivos automatizados. Sus datos no son ni serán en ningún caso suministrados a terceros. Puede en cualquier momento ejercitar su derecho de acceder, rectificar, de oposición al uso y, en su caso, cancelar sus datos personales comunicando al correo electrónico privacidad@march.es la operación a realizar. Más información sobre nuestra política de privacidad.