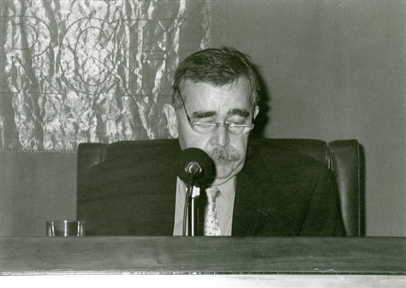 Philosophy Seminar

VI SEMINARIO PÚBLICO "Pensar la religión" (II)

Ecumenical religion and pieces of revelation
URL:
La Fundación Juan March organizó los días 11 y 13 del pasado mes de abril un Seminario Público sobre «Pensar la religión». En la primera sesión intervinieron José Gómez Caffarena, profesor emérito de Filosofía en la Universidad de Comillas, Madrid («Una interpretación filosófica de la religión») y Eugenio Trías, catedrático de Estética de la Universidad Pompeu Fabra, de Barcelona («Religión ecuménica y fragmentos de revelación»), quienes pronunciaron dos conferencias sobre el tema del Seminario desde perspectivas complementarias. De ellas se ofrece un resumen a continuación. En la sesión del jueves 13 de abril presentaron ponencias, seguidas de debate, Manuel Fraijó, catedrático de la Universidad Nacional de Educación a Distancia, y Miguel García-Baró, profesor de las Universidades Complutense y Comillas, de Madrid. El contenido de este Seminario se recoge en el n2 6 de la serie «Cuaderno de Seminario Público».
Según lo previsto en la Ley 34/2002 de Servicios de la Sociedad de la Información y de Comercio Electrónico, en la Ley Orgánica 15/1999 del 13 de Diciembre, de Protección de Datos de Carácter Personal y en el Reglamento (UE) 2016/679 General de Protección de Datos, le informamos que sus datos personales figurarán en nuestros archivos automatizados. Sus datos no son ni serán en ningún caso suministrados a terceros. Puede en cualquier momento ejercitar su derecho de acceder, rectificar, de oposición al uso y, en su caso, cancelar sus datos personales comunicando al correo electrónico privacidad@march.es la operación a realizar. Más información sobre nuestra política de privacidad.