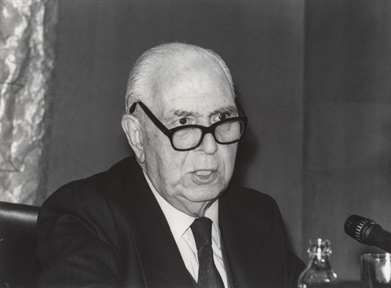 Lecture Series

El cuerpo humano (IV)

"A comprehensive theory of the human body"
URL:
«Nuestro siglo ve en el cuerpo humano una de sus deidades. Si desde que el hombre comenzó a expresarse, ha habido una actitud frente a la realidad del cuerpo, hoy el protagonismo del cuerpo humano es más fuerte que nunca: su vivísima actualidad en la vida social de casi todo el planeta se hace patente si pensamos en multitud de temas relativos a la salud y enfermedad, al sexo y al erotismo, al deporte y la cosmética, o la utilización que de él hace la Publicidad; y es también evidente la creciente preocupación por la posibilidad de vida extraterrestre y por los inquietantes avances de la Ingeniería Genética. El tema nos envuelve y nos insta constantemente a considerar su importancia». Un repaso de las visiones del cuerpo humano a lo largo de la historia hasta llegar a una teoría actual, que integre unitariamente el cuerpo ajeno y el propio, fue el objeto de un ciclo de conferencias del director de la Real Academia Española, el profesor Pedro Lain Entralgo, impartidas en la Fundación Juan March, del 25 de enero al 4 de febrero pasados.
Según lo previsto en la Ley 34/2002 de Servicios de la Sociedad de la Información y de Comercio Electrónico, en la Ley Orgánica 15/1999 del 13 de Diciembre, de Protección de Datos de Carácter Personal y en el Reglamento (UE) 2016/679 General de Protección de Datos, le informamos que sus datos personales figurarán en nuestros archivos automatizados. Sus datos no son ni serán en ningún caso suministrados a terceros. Puede en cualquier momento ejercitar su derecho de acceder, rectificar, de oposición al uso y, en su caso, cancelar sus datos personales comunicando al correo electrónico privacidad@march.es la operación a realizar. Más información sobre nuestra política de privacidad.