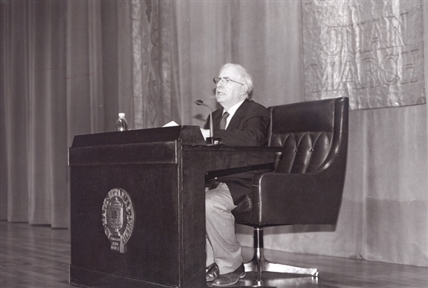 Open Classroom

El laberinto de las palabras: Introducción a los diccionarios (VI)

"The second level: the microstructure of the dictionary"
URL:
"Del 24 de septiembre al 17 de octubre, Manuel Seco, miembro de la Real Academia Española y autor del Diccionario del español actual, impartió en la Fundación Juan March un «Aula abierta» sobre «El laberinto de las palabras: introducción a los diccionarios», con la participación de Olimpia Andrés, colaboradora de Manuel Seco en el citado Diccionario.
Los títulos de las ocho conferencias públicas fueron: «Redes para atrapar el universo»; «Trayectoria de la lexicografía»; «Las metas y los caminos del diccionario»; «Los materiales del diccionario»; «El primer nivel: la macroestructura del diccionario»; «El segundo nivel: la microestructura del diccionario»; «Los artífices del diccionario»; y «El diccionario en la calle»."
Según lo previsto en la Ley 34/2002 de Servicios de la Sociedad de la Información y de Comercio Electrónico, en la Ley Orgánica 15/1999 del 13 de Diciembre, de Protección de Datos de Carácter Personal y en el Reglamento (UE) 2016/679 General de Protección de Datos, le informamos que sus datos personales figurarán en nuestros archivos automatizados. Sus datos no son ni serán en ningún caso suministrados a terceros. Puede en cualquier momento ejercitar su derecho de acceder, rectificar, de oposición al uso y, en su caso, cancelar sus datos personales comunicando al correo electrónico privacidad@march.es la operación a realizar. Más información sobre nuestra política de privacidad.