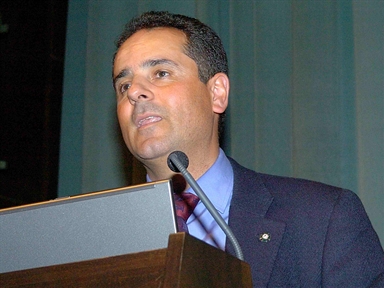 URL:
Date: 21/03/2006
Presenter:
In the early 21st century, Biology has become a science contributing to resolve problems traditionally distant to the field of life sciences, but that are having an increasing impact over our lives and societies. This is the topic we will address in the new "Open Class" programmed by the Fundación, The new challenges of Biology: from Neanderthals to the "Prestige". Eight scientists will address through eight conferences how can genetics be used as tool for historical and criminal research, the role of the bacteria in the preservation of the environment, or the cellular machinery of the living beings, among other topics.
18-19,30 h. Session for teachers. With restricted entrance through previous free registration.
Deadline until the 13th March 2006. Limited places.
19,30-21 h. Conference. Free entrance.
Según lo previsto en la Ley 34/2002 de Servicios de la Sociedad de la Información y de Comercio Electrónico, en la Ley Orgánica 15/1999 del 13 de Diciembre, de Protección de Datos de Carácter Personal y en el Reglamento (UE) 2016/679 General de Protección de Datos, le informamos que sus datos personales figurarán en nuestros archivos automatizados. Sus datos no son ni serán en ningún caso suministrados a terceros. Puede en cualquier momento ejercitar su derecho de acceder, rectificar, de oposición al uso y, en su caso, cancelar sus datos personales comunicando al correo electrónico privacidad@march.es la operación a realizar. Más información sobre nuestra política de privacidad.