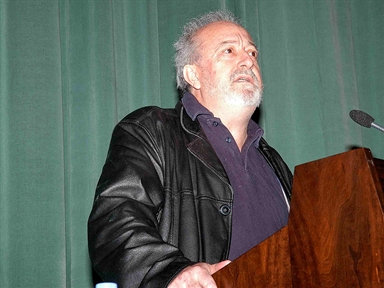 Lecture Series

Degenerate Art: The cultural repression program during the third Reich (V)

Series closure
URL:
Date: 10/03/2006
Presenter:
Under the title Entartete Kunst ("Degenerate Art") we include the exhibitions that since 1937 showed in Hitler's Germany the art that the National Socialist regime considered "degenerate", and which included artists that currently hold places of first order in the history of contemporary art, including for example Otto Dix. Coinciding with the retrospective of this artist which currently exhibits the Fundación Juan March, the 28th of february a series of conferences with the title "Degenerate art: the cultural repression program during the Third Reich" will begin, where several aspects of national socialism and its relationship with plastic arts, music, and philosophical thinking in the Germany of the time, will be addressed.
Según lo previsto en la Ley 34/2002 de Servicios de la Sociedad de la Información y de Comercio Electrónico, en la Ley Orgánica 15/1999 del 13 de Diciembre, de Protección de Datos de Carácter Personal y en el Reglamento (UE) 2016/679 General de Protección de Datos, le informamos que sus datos personales figurarán en nuestros archivos automatizados. Sus datos no son ni serán en ningún caso suministrados a terceros. Puede en cualquier momento ejercitar su derecho de acceder, rectificar, de oposición al uso y, en su caso, cancelar sus datos personales comunicando al correo electrónico privacidad@march.es la operación a realizar. Más información sobre nuestra política de privacidad.