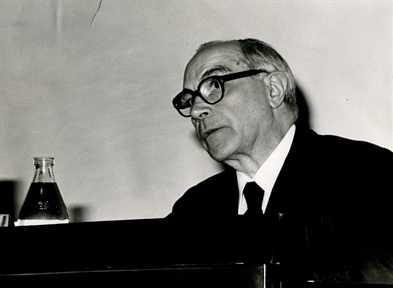 Lecture Series

El español de América (IV)

"Archaisms and innovations in Spanish American phonology and lexicon"
URL:
""EL ESPAÑOL de América" ha sido el tema tratado por el profesor don Rafael Lapesa en el cuarto de los seis cursos universitarios organizados para este año por la Fundación Juan March en colaboración con el Instituto de las Ciencias del Hombre. El ciclo está integrado por cinco conferencias: "El español llevado a América. Sus portadores. Regionalismos españoles en el habla hispanoamericana"; "Indigenismos y afronegrismos en el español de América"; "Arcaísmos e innovaciones en la fonología y léxico hispanoamericanos "Conservación y creación en la morfología y sintaxis hispanoamericanos"; y "Niveles de lenguaje en el español de América. Tendencias divergentes y unificadoras.
La tercera y quinta conferencias serán impartidas, respectivamente, por los profesores don Alonso Zamora Vicente y don Manuel Alvar López."
Según lo previsto en la Ley 34/2002 de Servicios de la Sociedad de la Información y de Comercio Electrónico, en la Ley Orgánica 15/1999 del 13 de Diciembre, de Protección de Datos de Carácter Personal y en el Reglamento (UE) 2016/679 General de Protección de Datos, le informamos que sus datos personales figurarán en nuestros archivos automatizados. Sus datos no son ni serán en ningún caso suministrados a terceros. Puede en cualquier momento ejercitar su derecho de acceder, rectificar, de oposición al uso y, en su caso, cancelar sus datos personales comunicando al correo electrónico privacidad@march.es la operación a realizar. Más información sobre nuestra política de privacidad.