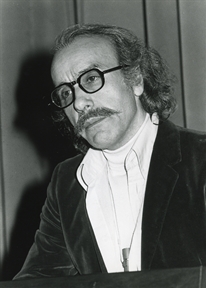 Lecture Series

En torno a la Exposición "Oskar Kokoschka" (I)

"Kokoschka and the theatre"
URL:
Date: 28/05/1975
Presenter:
"Tres conferencias y un concierto han sido las actividades realizadas con motivo de la exposición de Oskar Kokoschka que presentó la Fundación Juan March del 21 de mayo al 5 de julio pasados: un concierto a cargo del Grupo Koan, con música de Webern, Schónberg y Mahler, y en el que participó la soprano Ana Higueras acompañada al piano por Miguel Zanetti; y tres conferencias pronunciadas por don Francisco Nieva, don Enrique Lafuente Ferrari y don Alfonso E. Pérez Sánchez, que trataron el arte del pintor austríaco en tres facetas: su labor como autor teatral, su obra pictórica en el contexto del expresionismo alemán y su relación con la pintura expresionista española.
De la conferencia de don Francisco Nieva "Kokoschka y el teatro" ya ofrecimos un resumen en nuestro anterior Boletín. Presentamos a continuación un extracto de las disertaciones "La pintura de Kokoschka" y "Kokoschka y el expresionismo español", impartidas respectivamente por los profesores Lafuente Ferrari y Pérez Sánchez."
Según lo previsto en la Ley 34/2002 de Servicios de la Sociedad de la Información y de Comercio Electrónico, en la Ley Orgánica 15/1999 del 13 de Diciembre, de Protección de Datos de Carácter Personal y en el Reglamento (UE) 2016/679 General de Protección de Datos, le informamos que sus datos personales figurarán en nuestros archivos automatizados. Sus datos no son ni serán en ningún caso suministrados a terceros. Puede en cualquier momento ejercitar su derecho de acceder, rectificar, de oposición al uso y, en su caso, cancelar sus datos personales comunicando al correo electrónico privacidad@march.es la operación a realizar. Más información sobre nuestra política de privacidad.