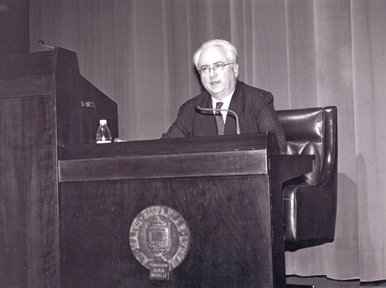 Open Classroom

Las plantas bajo el dominio del hombre (III)

"From the great journeys to plant hybridization"
URL:
Del 22 de octubre al 14 de noviembre, Francisco García Olmedo, catedrático de Bioquímica y Biología Molecular en la Escuela Técnica Superior de Ingenieros Agrónomos de Madrid, impartió en la Fundación Juan March un «Aula abierta» sobre «Las plantas bajo el dominio del hombre», con la participación de Pilar Carbonero, también catedrática de la misma materia en la citada Escuela.
Según lo previsto en la Ley 34/2002 de Servicios de la Sociedad de la Información y de Comercio Electrónico, en la Ley Orgánica 15/1999 del 13 de Diciembre, de Protección de Datos de Carácter Personal y en el Reglamento (UE) 2016/679 General de Protección de Datos, le informamos que sus datos personales figurarán en nuestros archivos automatizados. Sus datos no son ni serán en ningún caso suministrados a terceros. Puede en cualquier momento ejercitar su derecho de acceder, rectificar, de oposición al uso y, en su caso, cancelar sus datos personales comunicando al correo electrónico privacidad@march.es la operación a realizar. Más información sobre nuestra política de privacidad.