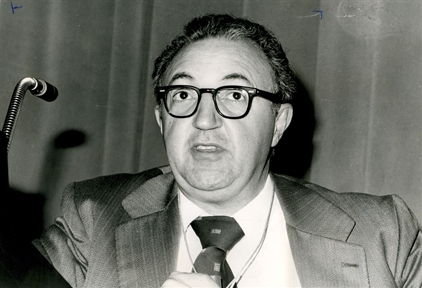 Lecture Series

El origen de la vida y la exploración del planeta Marte (II)

"Observation data and experiments in regards to the origin of life"
URL:
PRESENTAR los datos de observación a raíz de los importantes descubrimientos realizados desde 1973 en relación con la evolución química del universo y los estudios sobre el origen de la vida en la Tierra; y explicar qué tipos de experimentos pueden hacerse en el laboratorio para demostrar la formación de compuestos más complejos, cercanos a los que existen en la células, han sido los temas tratados por el profesor don Juan Oró, en el transcurso de dos lecciones que, bajo el título de El origen de la vida, han inaugurado los Cursos Universitarios organizados para este año por la Fundación Juan March. Estos cursos, integrados por cuatro conferencias-diálogo cada uno, y que correrán a cargo de destacados profesores y especialistas en diversos campos científicos y humanísticos, continúan los impartidos el año pasado en la sede de la Fundación.
Según lo previsto en la Ley 34/2002 de Servicios de la Sociedad de la Información y de Comercio Electrónico, en la Ley Orgánica 15/1999 del 13 de Diciembre, de Protección de Datos de Carácter Personal y en el Reglamento (UE) 2016/679 General de Protección de Datos, le informamos que sus datos personales figurarán en nuestros archivos automatizados. Sus datos no son ni serán en ningún caso suministrados a terceros. Puede en cualquier momento ejercitar su derecho de acceder, rectificar, de oposición al uso y, en su caso, cancelar sus datos personales comunicando al correo electrónico privacidad@march.es la operación a realizar. Más información sobre nuestra política de privacidad.