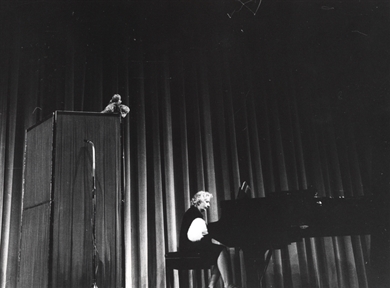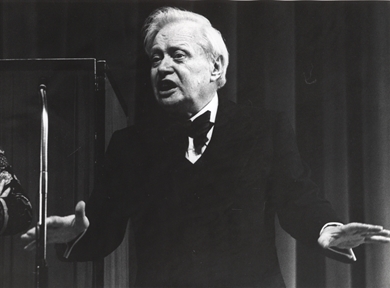 Lecture Series

Obraztsov and the State Academical Puppet Theatre
URL:
Date: 28/04/1975
Presenter:
"Vuelve a Madrid el Teatro Central Nacional de Marionetas de Moscú. Su fundador y director, S.V. Obraztzov, ha tenido la gentileza de pronunciar, en la sede de la Fundacion, una conferencia seguida de la actuación de algunas de sus marionetas, y de un coloquio especialmente dirigido a pedagogos, estudiosos del teatro y otras personas interesadas por los diferentes aspectos de su arte.
Obraztzov, de 74 afios de edad, es miembro del Consejo Artístico del Ministerio de la Cultura de la URSS y lleva actuando 44 años al frente de su teatro en casi todos los países del mundo, habiendo ofrecido un total de 29.000 representaciones. Este artista nacional de la Union Sovietica, heroe del trabajo socialista desde 1971, esta considerado como un maestro en su género. En su Teatro trabajan actualmente 350 personas, de las cuales 50 son actores y 20 músicos."
Según lo previsto en la Ley 34/2002 de Servicios de la Sociedad de la Información y de Comercio Electrónico, en la Ley Orgánica 15/1999 del 13 de Diciembre, de Protección de Datos de Carácter Personal y en el Reglamento (UE) 2016/679 General de Protección de Datos, le informamos que sus datos personales figurarán en nuestros archivos automatizados. Sus datos no son ni serán en ningún caso suministrados a terceros. Puede en cualquier momento ejercitar su derecho de acceder, rectificar, de oposición al uso y, en su caso, cancelar sus datos personales comunicando al correo electrónico privacidad@march.es la operación a realizar. Más información sobre nuestra política de privacidad.