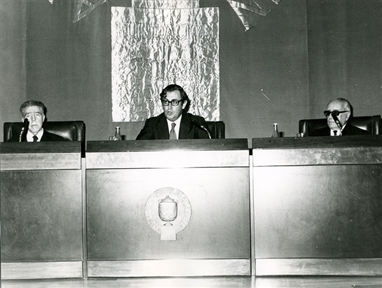 Inaugural lectures

Inauguración de la EXPOSICIÓN ANTOLÓGICA DE LA CALCOGRAFÍA NACIONAL. Patronage, an encouraging symptom of Spanish cultural heritage and "Engravings, with very little attention in Spain".
URL:
Date: 15/10/1975
Presenter:
Hasta finales de noviembre permanecerá abierta en la sede de la Fundación la exposición antológica de la Calcografía Nacional inaugurada el 15 de octubre. Integrada por un total de 216 obras pertenecientes a los mejores grabadores españoles de los siglos XVIII al XX, esta muestra pretende contribuir a un mejor conocimiento y un mayor interés por el arte del Grabado. La selección de las planchas y el catálogo han corrido a cargo de don Antonio Gallego, Secretario Técnico de la Calcografía Nacional. Elaborado con el mismo carácter didáctico que la muestra que se ofrece, y tras una presentación por don Enrique Lafuente Ferrari, Académico Delegado en esa institución, el catálogo describe las diversas técnicas y procedimientos del arte del grabado, su doble función artística y social y la importancia de la estampación, e incluye un breve repaso histórico del grabado español desde sus comienzos, en el siglo XV, hasta nuestros días, y el curso que ha seguido la Calcografía Nacional.
Según lo previsto en la Ley 34/2002 de Servicios de la Sociedad de la Información y de Comercio Electrónico, en la Ley Orgánica 15/1999 del 13 de Diciembre, de Protección de Datos de Carácter Personal y en el Reglamento (UE) 2016/679 General de Protección de Datos, le informamos que sus datos personales figurarán en nuestros archivos automatizados. Sus datos no son ni serán en ningún caso suministrados a terceros. Puede en cualquier momento ejercitar su derecho de acceder, rectificar, de oposición al uso y, en su caso, cancelar sus datos personales comunicando al correo electrónico privacidad@march.es la operación a realizar. Más información sobre nuestra política de privacidad.