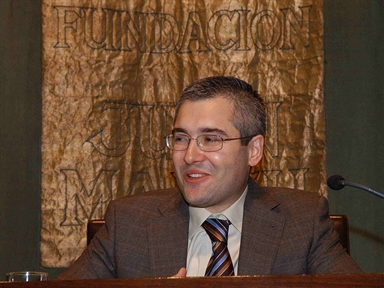 URL:
Date: 30/11/2006
Presenter:

José María García Martínez
A messiah for some, a fallen angel for others, and always controversial, Wynton Marsalis has marked the jazz of the last quarter of the 20th century. Since his irruption in the New York scene more than 25 years ago, Marsalis has been a sensation due to his declarations, his brilliant list of successes, his intensive and varied activity, and not any less, his work as composer. In this review of his career, we will make a special emphasis in Marsalis as the materialization of an aesthetic ideal (coming from the literary tradition of Ralph Ellison and Albert Murray), in the secondary role that his music has had in history, and the attempt to codify jazz based on this ideal, as well as the consequences.
Según lo previsto en la Ley 34/2002 de Servicios de la Sociedad de la Información y de Comercio Electrónico, en la Ley Orgánica 15/1999 del 13 de Diciembre, de Protección de Datos de Carácter Personal y en el Reglamento (UE) 2016/679 General de Protección de Datos, le informamos que sus datos personales figurarán en nuestros archivos automatizados. Sus datos no son ni serán en ningún caso suministrados a terceros. Puede en cualquier momento ejercitar su derecho de acceder, rectificar, de oposición al uso y, en su caso, cancelar sus datos personales comunicando al correo electrónico privacidad@march.es la operación a realizar. Más información sobre nuestra política de privacidad.