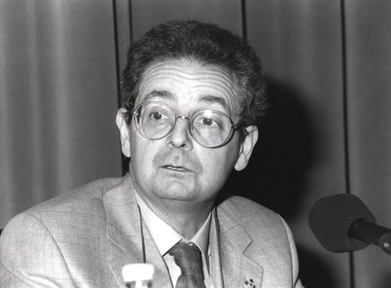 Lecture Series

El Teatro de Buero Vallejo (I)

"Buero Vallejo. The author and the work"
URL:
Date: 3/10/2000
Presenter:
"Las actividades culturales del presente curso se iniciaron en la Fundación Juan March el pasado mes de octubre con tres conferencias sobre El teatro de Buero Vallejo que pronunció, entre el 3 y el 10 de octubre, el catedrático de Lengua y Literatura Españolas y profesor titular de Literatura Española y Contemporánea de la Universidad de Murcia Mariano de Paco. Los títulos de las conferencias fueron: Buero Vallejo. El autor y la obra (martes 3 de octubre); Forma y sentido de la dramaturgia bueriana (jueves 5 de octubre); y La huella de Buero en el teatro actual (martes 10 de octubre). Este ciclo fue programado con anterioridad al fallecimiento del gran dramaturgo, ocurrido meses antes.
Con motivo de ese recuerdo al escritor español y mientras duró el ciclo se montó una pequeña exposición con una selección de los fondos que de Buero Vallejo posee la Fundación Juan March, a través de su Biblioteca de Teatro Español Contemporáneo. El fondo consta de 877 documentos: 80 textos del propio Buero, 127 estudios sobre el escritor y su obra, 350 críticas de prensa, 160 fotografías personales o de representaciones, 57 programas de mano, 6 bocetos originales de Sigfrido Burmann para obras suyas, 5 casetes en las que se habla de él o habla él mismo, 3 tesis doctorales y -lo más reciente- 142 cartas manuscritas suyas."
Según lo previsto en la Ley 34/2002 de Servicios de la Sociedad de la Información y de Comercio Electrónico, en la Ley Orgánica 15/1999 del 13 de Diciembre, de Protección de Datos de Carácter Personal y en el Reglamento (UE) 2016/679 General de Protección de Datos, le informamos que sus datos personales figurarán en nuestros archivos automatizados. Sus datos no son ni serán en ningún caso suministrados a terceros. Puede en cualquier momento ejercitar su derecho de acceder, rectificar, de oposición al uso y, en su caso, cancelar sus datos personales comunicando al correo electrónico privacidad@march.es la operación a realizar. Más información sobre nuestra política de privacidad.