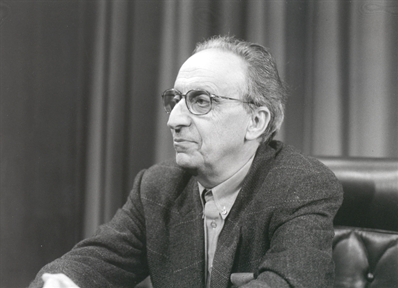 Lecture Series

La cultura portuguesa a comienzos del siglo XX (I)

(I) "The consciousness of Modernity in the times of Amadeo de Souza-Cardoso"
URL:
Date: 20/01/1998
Presenter:
Del 16 de enero al 1 de marzo pudo verse, en la Fundación Juan March, una retrospectiva del pintor portugués Amadeo de Souza-Cardoso (1887-1918). Por primera vez en España se exhibió una amplia muestra (54 obras: 40 pinturas, 10 acuarelas y 4 dibujos) de esta figura clave de la vanguardia de Portugal de comienzos del siglo XX. Coincidiendo con esta exposición, la Fundación Juan March programó un ciclo de conciertos y conferencias, sobre música y cultura portuguesas. Además de la conferencia inaugural, que dio el 16 de enero el director del Museo Municipal Amadeo de Souza-Cardoso, de Amarante, Antonio Cardoso, tal como se ha informado en anteriores Boletines, en este ciclo intervinieron: Fernando Guimaraes, autor de varios ensayos sobre literatura portuguesa, que habló de «La consciencia de modernidad en tiempos de Amadeo de Souza-Cardoso» (20 de enero); Fernando Cabral Martins, escritor y profesor de Literatura portuguesa de la Universidad Nueva de Lisboa, de «Años 10: la vanguardia portuguesa» (22 de enero); Joao Lima Pinharanda, crítico de arte y comisario de exposiciones, de «Amadeo de Souza-Cardoso: siglo XX ida y vuelta» (27 de enero); y Maria Helena Gomes de Freitas da Cunha e Sá, crítica de arte y comisaria de exposiciones, de «Amadeo: abismo azul» (29 de enero).
Según lo previsto en la Ley 34/2002 de Servicios de la Sociedad de la Información y de Comercio Electrónico, en la Ley Orgánica 15/1999 del 13 de Diciembre, de Protección de Datos de Carácter Personal y en el Reglamento (UE) 2016/679 General de Protección de Datos, le informamos que sus datos personales figurarán en nuestros archivos automatizados. Sus datos no son ni serán en ningún caso suministrados a terceros. Puede en cualquier momento ejercitar su derecho de acceder, rectificar, de oposición al uso y, en su caso, cancelar sus datos personales comunicando al correo electrónico privacidad@march.es la operación a realizar. Más información sobre nuestra política de privacidad.