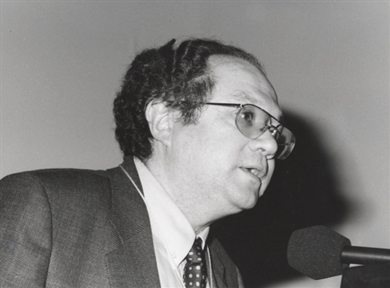 Lecture Series

Felipe II y las artes (III)

"Felipe II and the Venetian painting"
URL:
Date: 10/02/1998
Presenter:
"Del 3 al 26 del pasado mes de febrero, la Fundación Juan March celebró en su sede un ciclo de ocho conferencias en torno a «Felipe II y las artes», en el que intervinieron los especialistas Antonio Fernández Alba («Felipe II y El Escorial»), Fernando Checa («Felipe II y la pintura veneciana»), Alfonso Emilio Pérez Sánchez («Felipe II y los pintores de El Escorial») y Alfonso R. Gutiérrez de Ceballos («Felipe II y la escultura»). Este ciclo de conferencias se complementó con un ciclo de conciertos, titulado «Músicas para Felipe II», desarrollado en las mismas fechas. De esta forma la Fundación Juan March se sumaba a la conmemoración de la muerte del monarca español, de la que se cumple este año el cuarto centenario.
Antonio Fernández Alba es arquitecto, académico de número de la Real Academia de Bellas Artes de San Fernando y catedrático de Proyectos de la Escuela de Arquitectura de Madrid. Su destacado trabajo profesional como arquitecto desde 1957 lo comparte, desde una independencia de pensamiento crítico, con una dilatada actividad internacional en la enseñanza universitaria."
Según lo previsto en la Ley 34/2002 de Servicios de la Sociedad de la Información y de Comercio Electrónico, en la Ley Orgánica 15/1999 del 13 de Diciembre, de Protección de Datos de Carácter Personal y en el Reglamento (UE) 2016/679 General de Protección de Datos, le informamos que sus datos personales figurarán en nuestros archivos automatizados. Sus datos no son ni serán en ningún caso suministrados a terceros. Puede en cualquier momento ejercitar su derecho de acceder, rectificar, de oposición al uso y, en su caso, cancelar sus datos personales comunicando al correo electrónico privacidad@march.es la operación a realizar. Más información sobre nuestra política de privacidad.