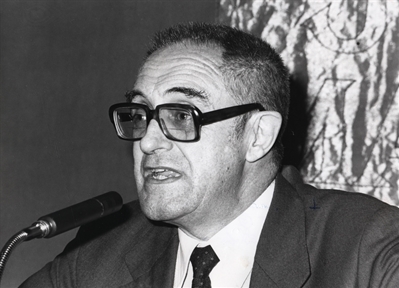 Lecture Series

La economía mundial en el umbral del siglo XXI (IV)

"The 'North-South Conference' and the future order"
URL:
«Vamos a la mundialización de la economía, ya que existe hoy una serie de problemas como las multinacionales, los recursos oceánicos, la crisis del sistema monetario internacional, la contaminación, que no pueden ser afrontados a escala nacional. Es de esperar que de esa mundialización vengan interpenetraciones de otras culturas, diferentes de esa tecnolatria en la que vivimos», declaró el profesor don José Luis Sampedro, Catedrático Excedente de Estructura Económica de la Universidad Complutense, a lo largo de su Curso Universitario «La economía mundial en el umbral del siglo XXI»
Según lo previsto en la Ley 34/2002 de Servicios de la Sociedad de la Información y de Comercio Electrónico, en la Ley Orgánica 15/1999 del 13 de Diciembre, de Protección de Datos de Carácter Personal y en el Reglamento (UE) 2016/679 General de Protección de Datos, le informamos que sus datos personales figurarán en nuestros archivos automatizados. Sus datos no son ni serán en ningún caso suministrados a terceros. Puede en cualquier momento ejercitar su derecho de acceder, rectificar, de oposición al uso y, en su caso, cancelar sus datos personales comunicando al correo electrónico privacidad@march.es la operación a realizar. Más información sobre nuestra política de privacidad.