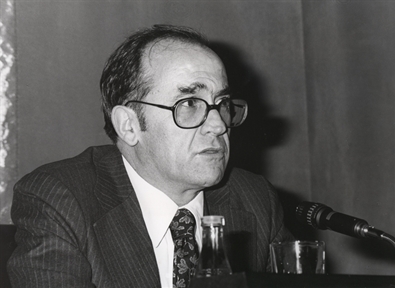 Lecture Series

Centenario de Feijóo (II)

"Feijóo and the Spain of his times"
URL:
"Feijóo, hoy y Feijóo y la España de su tiempo han sido los temas de las dos primeras conferencias pronunciadas, respectivamente, por los profesores don José Caso González y don Miguel Artola, dentro del Ciclo Centenario de Feijóo, celebrado el pasado mes de diciembre en la Fundación Juan March, con motivo del Centenario del nacimiento del ilustre benedictino.
En este ciclo han intervenido también los profesores don Rafael Lapesa y don José Antonio Maravall con otras dos lecciones relativas al estudio de la lengua en Feijóo y a su significación en el pensamiento político y social de la Ilustración"
Según lo previsto en la Ley 34/2002 de Servicios de la Sociedad de la Información y de Comercio Electrónico, en la Ley Orgánica 15/1999 del 13 de Diciembre, de Protección de Datos de Carácter Personal y en el Reglamento (UE) 2016/679 General de Protección de Datos, le informamos que sus datos personales figurarán en nuestros archivos automatizados. Sus datos no son ni serán en ningún caso suministrados a terceros. Puede en cualquier momento ejercitar su derecho de acceder, rectificar, de oposición al uso y, en su caso, cancelar sus datos personales comunicando al correo electrónico privacidad@march.es la operación a realizar. Más información sobre nuestra política de privacidad.