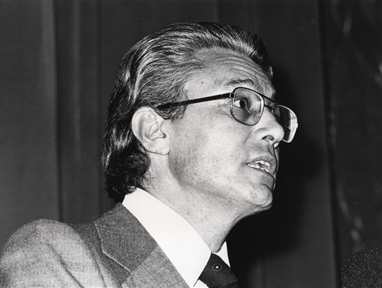 Lecture Series

Para una lectura del teatro clásico español (II)

"Don Juan and the society in The Trickster of Seville"
URL:
Don Francisco Ruiz Ramón, catedrático de Literatura Española en la Universidad de Purdue (Estados Unidos) impartió el pasado mes de febrero un curso de cuatro lecciones, con el titulo de «Para una lectura del teatro clásico español», en el que abordó los siguientes temas: «Principios metodológicos», «Don Juan y la sociedad del Burlador de Sevilla», «El universo cerrado del drama de honor» y «El héroe trágico en Los cabellos de Absalón, de Calderón».
Según lo previsto en la Ley 34/2002 de Servicios de la Sociedad de la Información y de Comercio Electrónico, en la Ley Orgánica 15/1999 del 13 de Diciembre, de Protección de Datos de Carácter Personal y en el Reglamento (UE) 2016/679 General de Protección de Datos, le informamos que sus datos personales figurarán en nuestros archivos automatizados. Sus datos no son ni serán en ningún caso suministrados a terceros. Puede en cualquier momento ejercitar su derecho de acceder, rectificar, de oposición al uso y, en su caso, cancelar sus datos personales comunicando al correo electrónico privacidad@march.es la operación a realizar. Más información sobre nuestra política de privacidad.