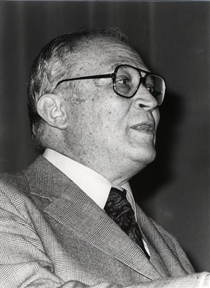 Inaugural lectures

Inauguración de la Exposición "ARTE U.S.A.". The abstract expressionism of present American art
URL:
Date: 9/02/1977
Presenter:
Treinta y seis obras de dieciocho artistas contemporáneos de los Estados Unidos integran la Exposición de Arte U.S.A., inaugurada el 9 de febrero, que permanecerá abierta hasta el próximo 6 de abril en la sede de la Fundación Juan March. Esta muestra se inscribe dentro de la línea de esta Institución de ofrecer en exposiciones colectivas o individuales un panorama lo más representativo posible del arte contemporáneo, tanto español como de otros países. En la realización de la presente exposición han colaborado la Galeria Beyeler de Basilea y diversas instituciones y coleccionistas particulares. La colectiva ofrece una selección de 36 obras representativas de las diversas tendencias artísticas norteamericanas, especialmente de las décadas de los 50 y 60. Los autores, de los cuales el mayor nació en 1888 y el más joven en 1936, se inscriben en la llamada «pintura de acción» (action painting) -Kline, Newman y Pollock-, en el arte pop -Johns, Rauschenberg, Oldenburg, Warhol, Lichtenstein­ y otras modalidades del expresionismo abstracto. La muestra ofrece una variada gama de tecnicas, desde el staining 0 concentrado de color sobre el lienzo, hasta los collages y assemblages o el comic, pasando por las esculturas cinéticas del recientemente fallecido Alexander Calder. Fernando Zóbel, pintor y creador del Museo de Arte Abstracto de Cuenca, pronunció una conferencia sobre el expresionismo abstracto y sus vertientes —pintura de acción y arte pop— en el contexto del arte norteamericano actual.
Según lo previsto en la Ley 34/2002 de Servicios de la Sociedad de la Información y de Comercio Electrónico, en la Ley Orgánica 15/1999 del 13 de Diciembre, de Protección de Datos de Carácter Personal y en el Reglamento (UE) 2016/679 General de Protección de Datos, le informamos que sus datos personales figurarán en nuestros archivos automatizados. Sus datos no son ni serán en ningún caso suministrados a terceros. Puede en cualquier momento ejercitar su derecho de acceder, rectificar, de oposición al uso y, en su caso, cancelar sus datos personales comunicando al correo electrónico privacidad@march.es la operación a realizar. Más información sobre nuestra política de privacidad.