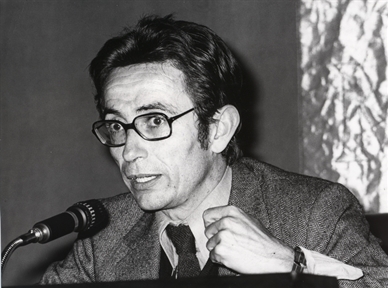 Lecture Series

En torno a la Exposición "Arte de Nueva Guinea y Papúa" (II)

"A new aspect of colonialism: the interpretation of primitive art, respectively"
URL:
Date: 13/05/1977
Presenter:
"Dos conferencias, a cargo de Christian Kaufmann, Conservador del Departamento de Antropologia de Oceania y Director Adjunto del Museo Etnogrlifico de Basilea, y del profesor Xavier Rubert de Ventós, Catedratico de Estetica de la Universidad de Barcelona, y la proyeccion de películas sobre las expediciones de Alberto Folch y Eudaldo Serra a Nueva Guinea y Papua, han sido las actividades organizadas como complemento de la Exposicton de Arte de Nueva Guinea y Papua, ofrecida en la Fundaclon hasta el 20 de junio, y de la cual se informó en el Boletin anterior.
El senor Kaufmann hablo de «Artistas de Kwoma (Nueva Guinea-Papua) y su obra», e ilustró su charla con la proyección de diapositivas y películas realizadas por el mismo. Por su parte, el profesor Rubert de Ventós centró su conferencia en «Un nuevo aspecto del colonialismo: la interpretacion del arte primitivo»."
Según lo previsto en la Ley 34/2002 de Servicios de la Sociedad de la Información y de Comercio Electrónico, en la Ley Orgánica 15/1999 del 13 de Diciembre, de Protección de Datos de Carácter Personal y en el Reglamento (UE) 2016/679 General de Protección de Datos, le informamos que sus datos personales figurarán en nuestros archivos automatizados. Sus datos no son ni serán en ningún caso suministrados a terceros. Puede en cualquier momento ejercitar su derecho de acceder, rectificar, de oposición al uso y, en su caso, cancelar sus datos personales comunicando al correo electrónico privacidad@march.es la operación a realizar. Más información sobre nuestra política de privacidad.