Behind the frontlines: identity, competition, and violence in civil wars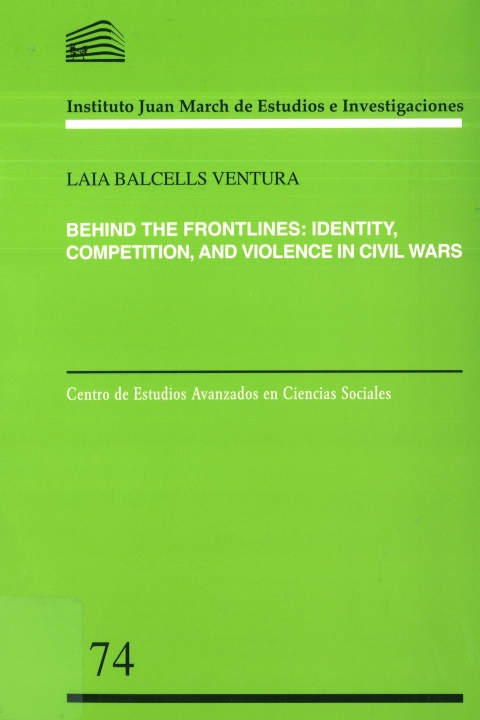 Author

Balcells

Laia

Publication Date

2010

Publisher

Instituto Juan March

Series

Trabajos de Investigación

Collection

CEACS: Tesis doctorales

Genre

Monografías

Language

Inglés

Notes

El estudio de la violencia contra civiles durante conflictos armados internos ha estado mayoritariamente inspirado en los procesos de violencia que tienen lugar en el contexto de guerras civiles irregulares. En esta tesis se investigan conflictos armados denominados convencionales\, que tienen características parecidas a las de los conflictos interestatales por la naturaleza de su tecnología de guerra –pesada– y de sus frentes de batalla –estables. El núcleo de la tesis intenta responder a la pregunta de por qué los grupos armados que se enfrentan en guerras civiles convencionales deciden asesinar a civiles que viven en sus retaguardias\, y por qué lo hacer en mayor o menor grado en distintos lugares y momentos del tiempo. Se distingue entre violencia directa e indirecta según el nivel de interacción entre grupos armados y víctimas y se teoriza sobre los determinantes de una y otra violencia\, vinculados en ambos casos (aunque de formas distintas) a las dinámicas políticas locales previas a la guerra. Y es que la violencia se genera por parte de grupos armados que pretenden eliminar del territorio a sus enemigos políticos\, y es promocionada por parte de civiles que la utilizan a fin de cambiar el statu quo político de sus localidades. Las implicaciones observables del modelo teórico se comprueban a partir de análisis cuantitativos y cualitativos con datos de un único caso de conflicto armado\, la Guerra Civil Española\, 1936–39. El principal hallazgo es que la competencia política\, medida a través de datos de las elecciones generales de febrero del 1936\, explica el nivel de ejecuciones que tiene lugar a nivel local. En particular\, se observa que –independientemente del color político del grupo armado y de su estructura interna– una mayor paridad en la distribución de poder local\, ofrece como resultado un mayor nivel de violencia directa. Por otro lado\, el análisis de los bombardeos en Cataluña muestra que las localidades con mayor dominación política por parte de la izquierda son\, junto con las ciudades portuarias y fronterizas\, las más afectadas por los bombardeos fascistas. Así\, se demuestra que los factores que explican la violencia directa son diferentes a los que explican la violencia indirecta. En un segundo plano\, la tesis explora las consecuencias de la violencia sobre las identidades políticas. La evidencia obtenida sugiere que las experiencias traumáticas que tienen lugar en el contexto de una guerra modifican las identidades de las víctimas y sus familias. De forma clara\, estos recuerdos aumentan el sentimiento de "rechazo" de las identidades del grupo victimizador. La principal implicación de todo ello es que la violencia es contraproducente para los grupos armados que cometen violaciones contra civiles y que aspiran a gobernar un país una vez que el conflicto armado ha finalizado.\,Laia Balcells Ventura. ill. ; 23 cm. Tesis doctorales / Instituto Juan March de Estudios e Investigaciones\, Centro de Estudios Avanzados en Ciencias Sociales ; 74 Includes bibliographical references (p. [449]-505).