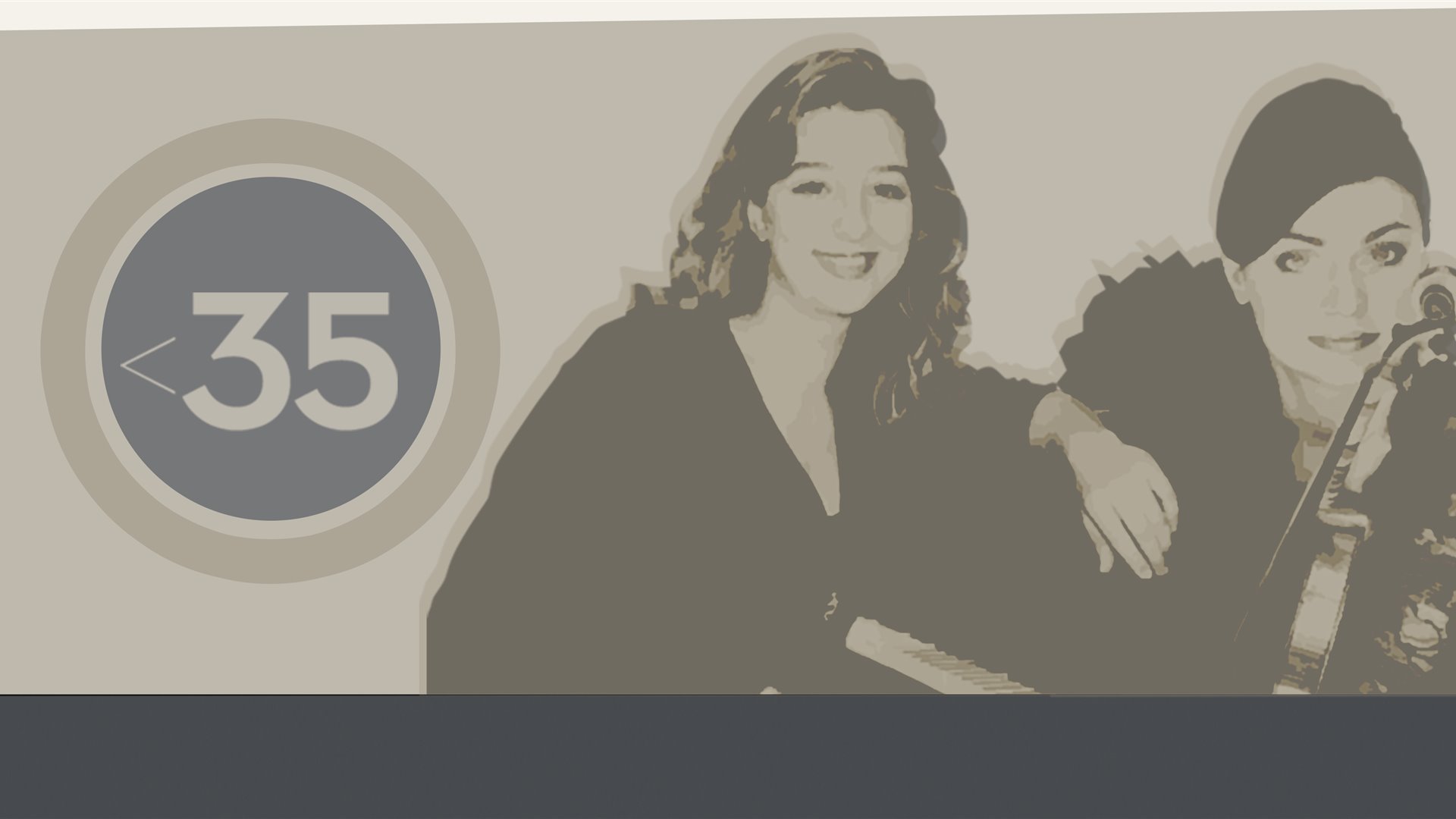 Premieres and (Re)premieres
Premieres and Re-Premieres (95) Composers Sub-35 (IV)
The event took place on
Prior interview at
Mariana Todorova

, violin.

Mariana Gurkova

, piano


Belén Pérez Castillo

and

Teresa Catalán

interviewed by

Laura Prieto
The series Composers Sub-35, exclusively devoted to Spanish composers under the age of 35, has enabled almost 20 different composers to be heard so far. In its fourth year, the concert will feature six young composers and will include four world premieres. This recital will provide the opportunity to hear the music of several composers who are based outside Spain, a fact that reflects the complexity and richness of this moment in history.
Mariana Todorova

Concertino de la Orquesta Sinfónica de RTVE desde 1997, nació en Varna (Bulgaria), estudió con S. Furnadjieva y con catorce años gana el Concurso Nacional Svetoslav Obretenov y el Concurso Internacional Kocian en Checoslovaquia. Continúa sus estudios en el Real Conservatorio Superior de Madrid con Víctor Martín. Como solista ha actuado con diversas orquestas europeas y españolas. Le han dedicado obras compositores actuales como Bustamante, Cueva, Ruiz Pipó, Greco, Torres, Taverna-Bech, Mosquera y García Abril, entre otros. Ha realizado numerosas grabaciones para TVE, Canal Satélite, Radio Clásica y para el sello discográfico de RTVE. Actúa regularmente en las principales salas, festivales y ciclos de conciertos de España y colabora regularmente como concertino invitada con la Real Filharmonía de Galicia. En el año 2000 estrena con la Orquesta Sinfónica de Gran Canaria el concierto para violín Ardor de José Luis Greco, dedicado a ella, que posteriormente graba para el sello ASV. Toca un violín Joseph Ceruti de 1844.

Mariana Gurkova

Esta pianista española de origen búlgaro ha actuado en prestigiosas salas de los cinco continentes. Tras graduarse en el Conservatorio Superior Nacional de Bulgaria, continúa sus estudios con Joaquín Soriano en el Real Conservatorio Superior de Madrid, ciudad donde reside desde 1988. Ha obtenido los máximos galardones en concursos nacionales e internacionales como los de Jaén, Senigalia (Italia), Santander, Cincinnati (Estados Unidos), Jacinto Guerrero (Madrid), José Iturbi (Valencia), Ettore Pozzoli (Italia), Svetoslav Obretenov y Juventudes Musicales de Bulgaria. Su predilección por la música española le ha hecho acreedora de premios especiales a la mejor interpretación de esta en los certámenes de Santander y José Iturbi. Su discografía abarca, entre otras, obras de Bach, Haydn, Liszt, Chopin, Soler, Albéniz, Rajmáninov, Chaikovski y Stravinsky, entre otros. Su interpretación y grabación de la integral de los estudios de Chopin ha merecido los elogios del público y la crítica. En la actualidad compagina la actividad concertística con su labor docente en el Real Conservatorio Superior de Madrid.
José Luis Besada

Tras titularse como músico (Real Conservatorio Superior de Música de Madrid), matemático (Universidad Complutense de Madrid) y musicólogo (Paris 8), José L. Besada defendió su tesis doctoral (cotutela Paris 8-UCM) en 2015. Ha sido profesor asociado en la Sorbona en 2016 y ha tenido contratos posdoctorales en París en el Institut de Recherche et Coordination Acoustique/Musique (IRCAM, 2015-2016), en la Universidad de Estrasburgo (2017-2019) y en la Universidad Complutense (2020-2021), este último gracias al programa de Atracción de talento de la Comunidad de Madrid. Entre sus publicaciones destaca Metamodels in Compositional Practices: The Case of Alberto Posadas's Liturgia Fractal, primer libro de un autor español editado por el IRCAM, y ha publicado en revistas de impacto como Organised Sound, Tempo, Perspectives of New Music y Contemporary Music Review. En esta última ha sido co-editor de un doble número sobre la música contemporánea española, Spain beyond Spain: Contemporary Spanish Music in a Global Context (2019), la publicación científica más extensa sobre este tema en inglés. José L. Besada es también divulgador musical, destacando su colaboración con RNE – Radio Clásica desde 2017, presentando dos emisiones semanales sobre música contemporánea: Música viva y Miramondo múltiplo.