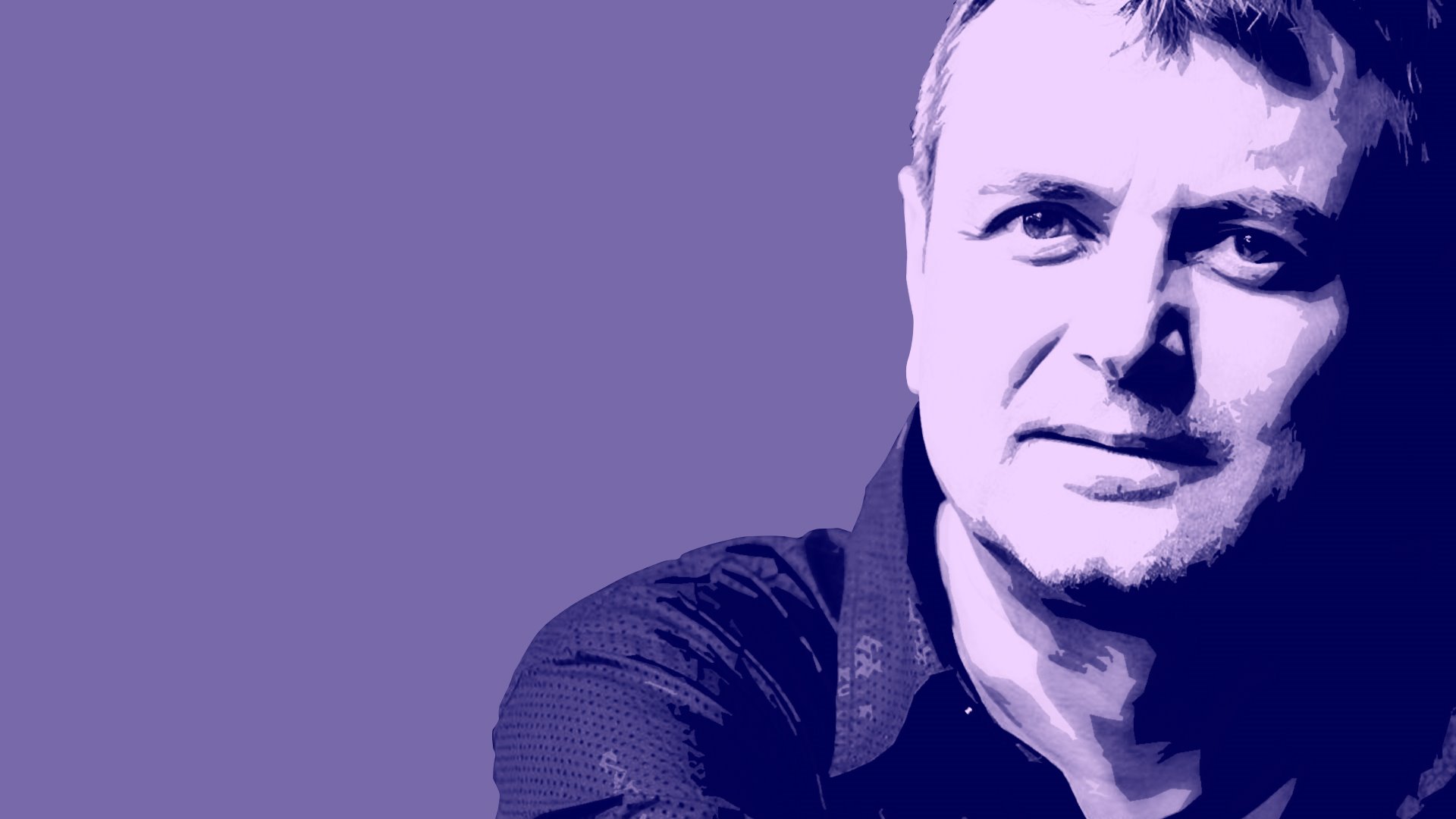 Poetics and Theatre
Ernesto Caballero
A conversation with Luciano García Lorenzo and a dramatised reading of excerpts by Karina Garantivá and Marta Betriu
The event took place on
Ernesto Caballero

and

Luciano García Lorenzo




Ernesto Caballero

, conductor


Karina Garantivá

and

Marta Betriu

, performance
Ernesto Caballero

Es uno de los hombres más versátiles de la escena teatral española. Pertenece a esa generación de creadores que conoce el mundo teatral en todos sus aspectos: como autor, como director, como maestro de actores, etc.

Director del Centro Dramático Nacional desde enero de 2012, ha destacado por igual en sus facetas de autor teatral, director de escena y director de compañía. Profesor titular de Interpretación en la Real Escuela Superior de Arte Dramático, ha sido director asociado del Teatro de La Abadía.

En años recientes, en el Centro Dramático Nacional, puso en escena Rinoceronte de Ionesco, Vida de Galileo de Bertolt Brecht, El Laberinto mágico de Max Aub y Jardiel, un escritor de ida y vuelta, basado en Un marido de ida y vuelta de Enrique Jardiel Poncela, así como Tratos, una reinterpretación de El trato de Argel de Cervantes, en el Centro Cultural Conde Duque de Madrid y en San Sebastián Capital Europea de la Cultura 2016. Su monólogo Reina Juana se estrenó en 2016 en el Teatro de La Abadía, con dirección de Gerardo Vera, y su texto La autora de Las meninas, del que asumió la dirección, se estrenó en el Centro Dramático Nacional en 2017 tras una larga gira por España. El mismo año también estrenó Inconsolable, un monólogo de Javier Gomá Lanzón, en el mismo Centro Dramático Nacional.

El trabajo de Ernesto Caballero como director responde a muchas de las claves que aparecen también en su producción dramática: la misma insistencia en la temática social y la misma búsqueda de los límites entre el escenario y la realidad, la indagación en la meta-teatralidad y el juego de tiempos y espacios.

Karina Garantivá

Actriz, productora y directora teatral, es licenciada en Interpretación por la Real Escuela Superior de Arte Dramático. Debutó como actriz con Presas (2005) de Ignacio del Moral y Verónica Fernández, bajo la dirección de Ernesto Caballero. Posteriormente se convirtió en la gestora, productora y actriz de la obra Maniquís (2008) de Ernesto Caballero. En 2009 fundó el Proyecto Maniquís. Asimismo es productora de la compañía Teatro el Cruce, dirigida por Ernesto Caballero y para la que diseñó varias producciones.

Ha participado como actriz de teatro, entre otros montajes, en La fiesta de los jueces, basada en El Cántaro Roto de Heinrich Von Kleist; Doña Perfecta de Benito Pérez Galdós; En la vida todo es verdad y todo mentira de Calderón de la Barca; Como gustéis de William Shakespeare; y más recientemente en Festen de Thomas Vinterberg y Mogens Rukov, dirigida por Magüi Mira, y en El jardín de los cerezos de Chéjov, con dirección de Ernesto Caballero.

Es fundadora y directora de la compañía Primas de Riesgo, con la que ha estrenado varios montajes (Runners, con dirección de Ernesto Caballero, y Naces, consumes, mueres y El mágico prodigioso de Calderón de la Barca, ambas dirigidas por Karina Garantivá).

Marta Betriu

Actriz, formada en danza y licenciada en Arte Dramático en la especialidad de Interpretación por el Institut del Teatre de Barcelona.

Ha participado como actriz de teatro, entre otros montajes, en À la ville de... Barcelona de Joan Ollé; Cyrano de Bergerac de Edmond Rostand, dirigida por Oriol Broggi; y El mercader de Venècia de William Shakespeare, bajo la dirección de Rafel Duran.

También ha trabajado en cine y en series de televisión como La Riera, Pelotas o El cor de la ciutat.

Luciano García Lorenzo

Profesor de investigación del Instituto de Filología del Consejo Superior de Investigaciones Científicas. Es doctor en Filosofía y Letras con premio extraordinario por la Universidad Complutense de Madrid. Ha sido director del Festival Internacional de Teatro Clásico de Almagro, así como fundador y director de Cuadernos de Teatro Clásico y director de Anales Cervantinos.

Especialista en Teatro español del Siglo de Oro y del siglo XX, ha publicado libros y artículos sobre teatro clásico y contemporáneo, y ha editado obras de autores clásicos y de los siglos XIX y XX. Es miembro del consejo de redacción de destacadas revistas literarias y filológicas españolas y extranjeras.
In the exciting universe of the Spanish Golden Age theatre there is a figure, a man -there were also women, but few- who is the undisputed protagonist of the theatrical act, although for centuries he has not received the attention he deserved: the "comedy author". Not the writer or "poet" composing the text, but the person who buys it and from that moment becomes responsible of everything related to making that text reach the scenarios. The person in charge of hiring the actors, arranging the company, coordinating the rehearsals, the responsible for all economic affairs and for all the networking with relevant organizations related with the representation of the comedy in theaters, squares, palaces, private homes.... His responsibilities are even political, social and moral. The later, in the strict term and in the right moment, although this should be further explained later at some point. As time has passed, each of these duties has been assigned to a particular position: producers, directors, actors and actresses, exhibitors, technical staff in charge of scenarios, wardrobe, music, etc., and even cultural managers from private initiatives, but mainly, from city halls and otros institutions dependent from central administrations.
But why this long introduction?... The answer is simple. We want to introduce Ernesto Caballero, who like many others devoted to scenic arts, is very much a "comedy author": he his a man of theatre in such a wide sense, that reminds us of the "authors". Ernesto Caballero (Madrid, 1958) has worked for many years in the world of scenarios from the private side, and knows very well how difficult these daily fights are -in the present, even more- in the theatrical universe; he has also been scene director in many public institutions where he has received a very fair recognition, for example in the Compañía Nacional de Teatro Clásico where he has staged plays based on works going from Pérez Galdós to Valle-Inclán, or from Ionesco to Juan Mayorga in the Centro Dramático Nacional and La Abadía; he has adapted and staged, on his own or in collaboration, many texts from Spanish and foreign authors that have toured all around Spain; he has also given lessons in the Real Escuela Superior de Arte Dramático in Madrid where he is full Professor... And he his very familiarized with the day-to-day management as he has been director of the Centro Dramático Nacional for some years now, a very satisfying position, yet full of difficulties. We would also need to add, because it is after all a recognition to his constant and well-executed work, that he has been laureate of the Max Award, the José Luis Alonso Award granted by the Asociación de Directores de Escena, the Crítica Teatral de Madrid award for being the best author of the season... And these are only a few.
But ending with what could perfectly be the beginning, Ernesto Caballero is a magnificent writer, one of the best -and we speak in present tense- theatrical authors of the last decades: Squash, Retén, Rezagados, Destino desierto, María Sarmiento, Un busto al cuerpo, Pepe el Romano, Te quiero, muñeca, Tierra de por medio, etc., are some of the texts that make him not only an "author of comedy", but also a "dramatic poet".