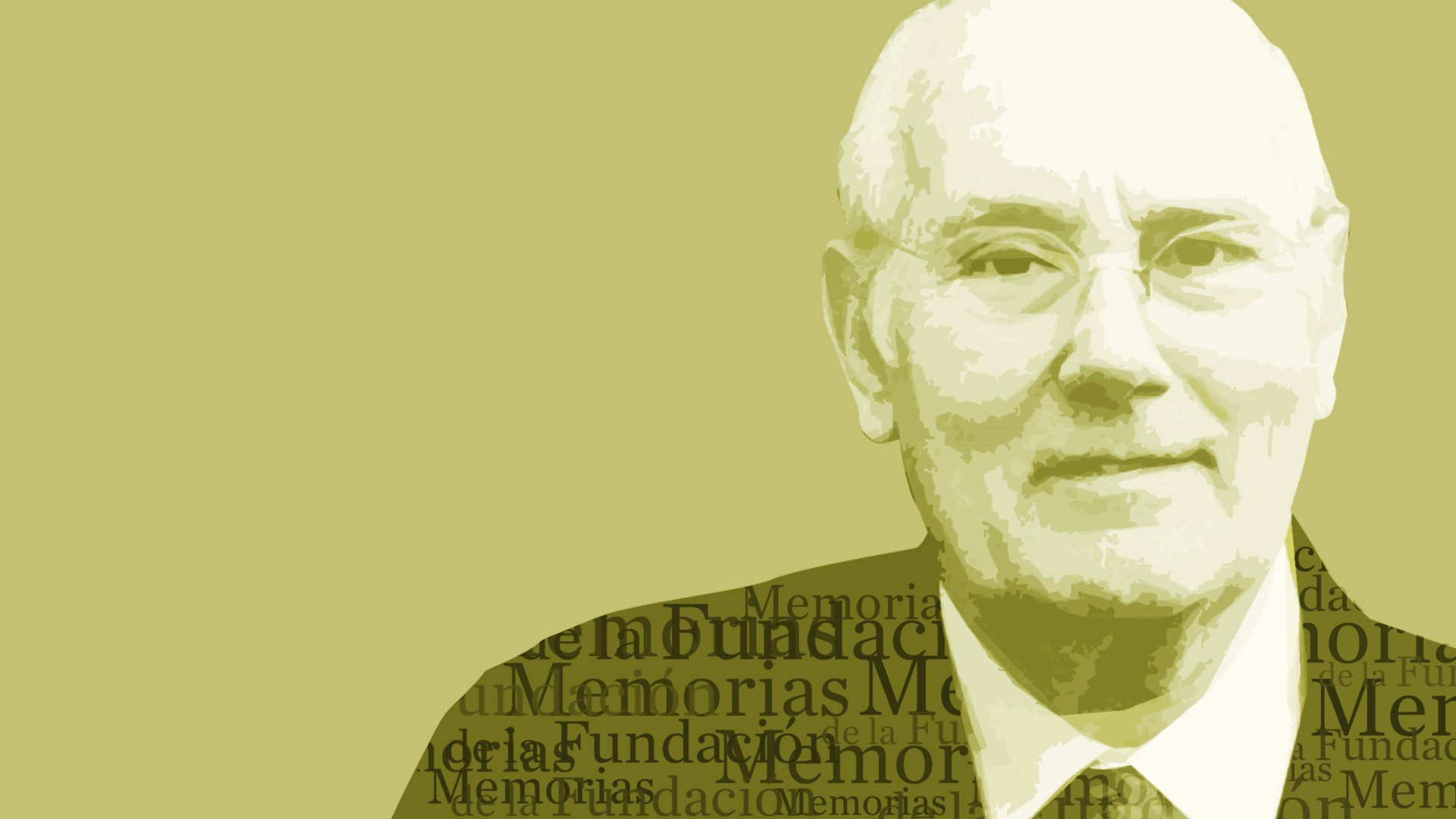 Memories of the Fundación
José Manuel Romay Beccaría
The event took place on
José Manuel Romay Beccaría

interviewed by

Íñigo Alfonso
This initiative takes place in the form of a series of talks with outstanding personalities from different cultural areas who were one-time recipients of a scholarship or grant from the Fundación Juan March, which they used to begin their careers or progress professionally in their respective disciplines. With the descriptions of their experiences, the Fundación Juan March aims to put the spotlight on their lives and careers and consequently portray the evolution of a country, capturing an image of Spain during the 1950s, 60s and 70s and projecting it on to the Spain of today. This is the explanation for the title of this activity, "Memories of the Fundación": a series of programs looking back on the origins of outstanding professional careers, as well as because the results of these scholarships were reflected in a final report (referred to as a "memoria" in Spanish) or thesis deposited at the Fundación.
The host is the journalist Íñigo Alfonso, who has worked at Radio Nacional de España (RNE) since 2001, where he has performed different roles at RNE in the areas of economy and national news information, directing the late news program "24 Horas" (24 Hours). He has been co-director of the lunchtime TVE News. He is presently coordinating the parliamentary area of the news services at RNE.

This session will be streaming on Channel March: www.march.es/directo/?l=2
José Manuel Romay Beccaría

(Betanzos, 1934). Jurista y letrado del Consejo de Estado desde 1959, el cual preside en la actualidad. Es doctor en Derecho por la Universidad de Santiago de Compostela, donde impartió clases. Ha sido tesorero nacional y vicepresidente nacional y regional del Partido Popular, del que es presidente provincial en La Coruña desde 1985.

Entre sus cargos políticos figuran los de concejal en el Ayuntamiento de A Coruña, diputado nacional, vicepresidente y consejero de Agricultura y de Sanidad de la Xunta de Galicia, presidente de la Diputación Provincial da Coruña, presidente de la Comisión de Justicia e Interior del Congreso de los Diputados y ministro de Sanidad y Consumo entre 1996 y 2000. Asimismo fue secretario general de Sanidad, director del Instituto de Estudios de Administración Local, subsecretario de la Presidencia del Gobierno y subsecretario del Ministerio de Gobernación.

Es autor de los libros Lecturas para estos tiempos: sociedad abierta, globalización, inmigración, multiculturalismo (2002), Lecturas para estos tiempos. Humanismo, democracia y sociedad civil (2006) y José Manuel Romay Beccaría: el equilibrio permanente (2015, con Enrique Beotas), entre otros.

Está en posesión de las Grandes Cruces españolas de Carlos III, San Raimundo de Peñafort, Isabel La Católica, Mérito Civil y de la Gran Cruz al Mérito de la República de Austria. También ha recibido la Medalla de Oro al Mérito Sanitario de Galicia, el Premio Montero Ríos y el título de Hijo Predilecto y la Medalla de Plata, ambos de Betanzos.

Íñigo Alfonso

Periodista. Desde 2001 trabaja en RNE, donde ha desempeñado diferentes funciones en las áreas de economía e información nacional. Dirigió el informativo nocturno 24 horas y ha desempeñado el cargo de corresponsal parlamentario de los servicios informativos de RNE. Ha sido editor adjunto del Telediario primera edición de TVE y en la actualidad dirige el informativo matinal Las mañanas de RNE.