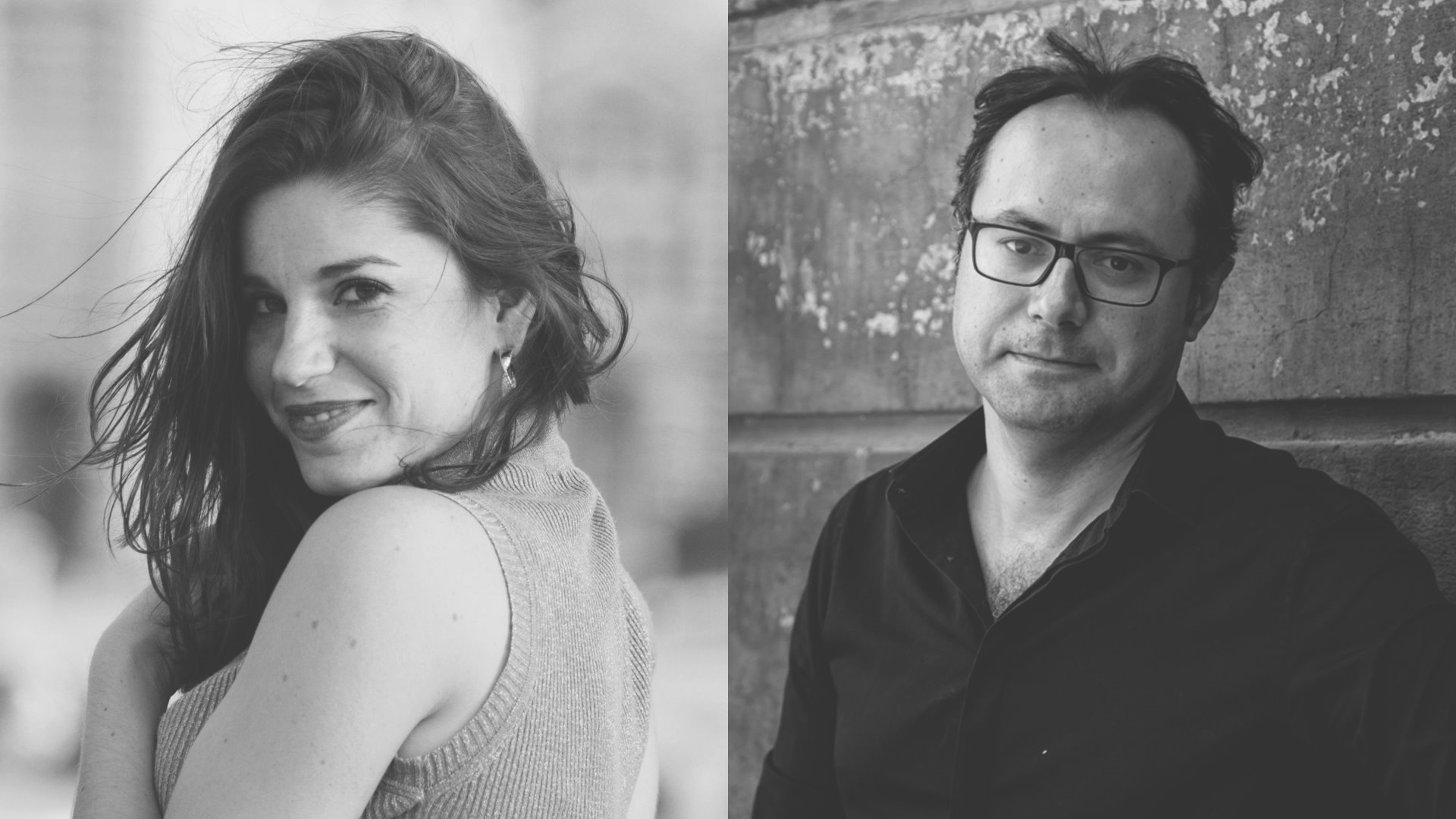 Young performers
Eleonora de la Peña and Frédéric Isoletta
The event took place on
Eleonora de la Peña

, soprano.

Frédéric Isoletta

, piano
Gaetano Donizetti (1797-1848)

Quel guardo il cavaliere, from Don Pasquale

Giacomo Puccini (1858-1924)

O mio babbino caro, from Gianni Schicchi

Franz Liszt (1811-1886)

Un sospiro, from 3 Études de concert S 144

Jules Massenet (1842-1912)

Enfin je suis ici, from Cendrillon

Jean-Philippe Rameau (1683-1764)

Air de la Folie, from Platée

Franz Lehar (1870-1948)

Air de Vilya, from Veuve Joyeuse

Francis Poulenc (1899-1963)

Les chemins de l'amour

Isaac Albéniz (1860-1909)

Granada, from Suite española No. 1 Op. 47

Ruperto Chapí (1851-1909)

Carceleras, from Las hijas del Zebedeo

Gioachino Rossini (1792-1868)

Una voce poco fa (Cavatina. Rosina), from Il barbiere di Siviglia
Canzonetta spagnuola
Eleonora de la Peña

Comienza su carrera con veintitrés años en el Teatro de la Ópera de Roma cantando el papel de la primera bruja en Dido and Eneas de Purcell. Desde entonces ha sido invitada regularmente a cantar papeles en este escenario y las Termas de Caracalla. Previamente, cuando contaba veinte años, había realizado numerosos recitales con el director de orquesta Christian Mendoze. Más tarde, el maestro David Stern la invita al Atelier Lyrique Opera Fuoco de París. Participa en clases magistrales y conciertos con François Le Roux, Jeff Cohen, Jill Feldman y Jay Bernfeld. Con este último actúa en recitales acompañada por su orquesta barroca, Fuoco e Cenere. En paralelo, encarna numerosos primeros papeles, como los de Ernestina en L'occasione fa il ladro, Eurídice en Orphée aux enfers, Amelite en Zoroastre, y Didon en Dido and Eneas. Además, ha actuado en teatros como la Ópera de Vichy, el Teatro Principal de Oviedo, con directores como Charles Dutoit, Stefano Montanari, Yves Abel, Ricardo Frizzo, Valerio Galli, Alejo Pérez, Jonathan Webb, Roberto Forés Veses, René Koering, Eric Vigie, Chiara Muti, William Kentridge y Lorenzo Mariani. También ha ofrecido numerosos recitales, en salas como el Teatro Châtelet de París, el Festival Musiksommer am Zurichsee de Suiza, el FestivalOpéra Saint Eustache de Canadá, el Palazzo Montanari en Italia o el Musik + Festival de Austria. En 2019 publica su primer álbum, Los esplendores de la música barroca española.

Frédéric Isoletta

Pianista, organista y director de canto, Frédéric Isoletta es titulado en acompañamiento piano en especialidad vocal, musicología e historia del arte. Ha obtenido el Premio Henri Tomasi y los primeros premios de los conservatorios nacionales en las especialidades de piano, acompañamiento, órgano, continuo e improvisación, música de cámara, escritura, formación musical, análisis, cultura musical y orquestación.

Es acompañante piano en el Festival Internacional de Arte Lírico de Aix en Provence, dirige la academia de verano de Chaillol en los Altos Alpes y es organista en diversas instituciones religiosas. Acompañante muy solicitado y apreciado, sigue comprometido con la difusión musical en sectores en los que la cultura tiene poco o ningún espacio (hospitales, cárceles, centros sociales). Ha estrenado obras de numerosos compositores actuales, y ha compartido escenario con personalidades como Michael Lonsdale, Sandrine Piau, Karine Deshays, François Rossé, Raphaël Imbert, Françoise Atlan et Fred Nevchéhirlian, y ha acompañado clases magistrales de prestigiosos artistas tales como Ivry Gitlis y Michel Strausss. Ha trabajado bajo la dirección de directores como Simon Rattle y Jérémy Rohrer.