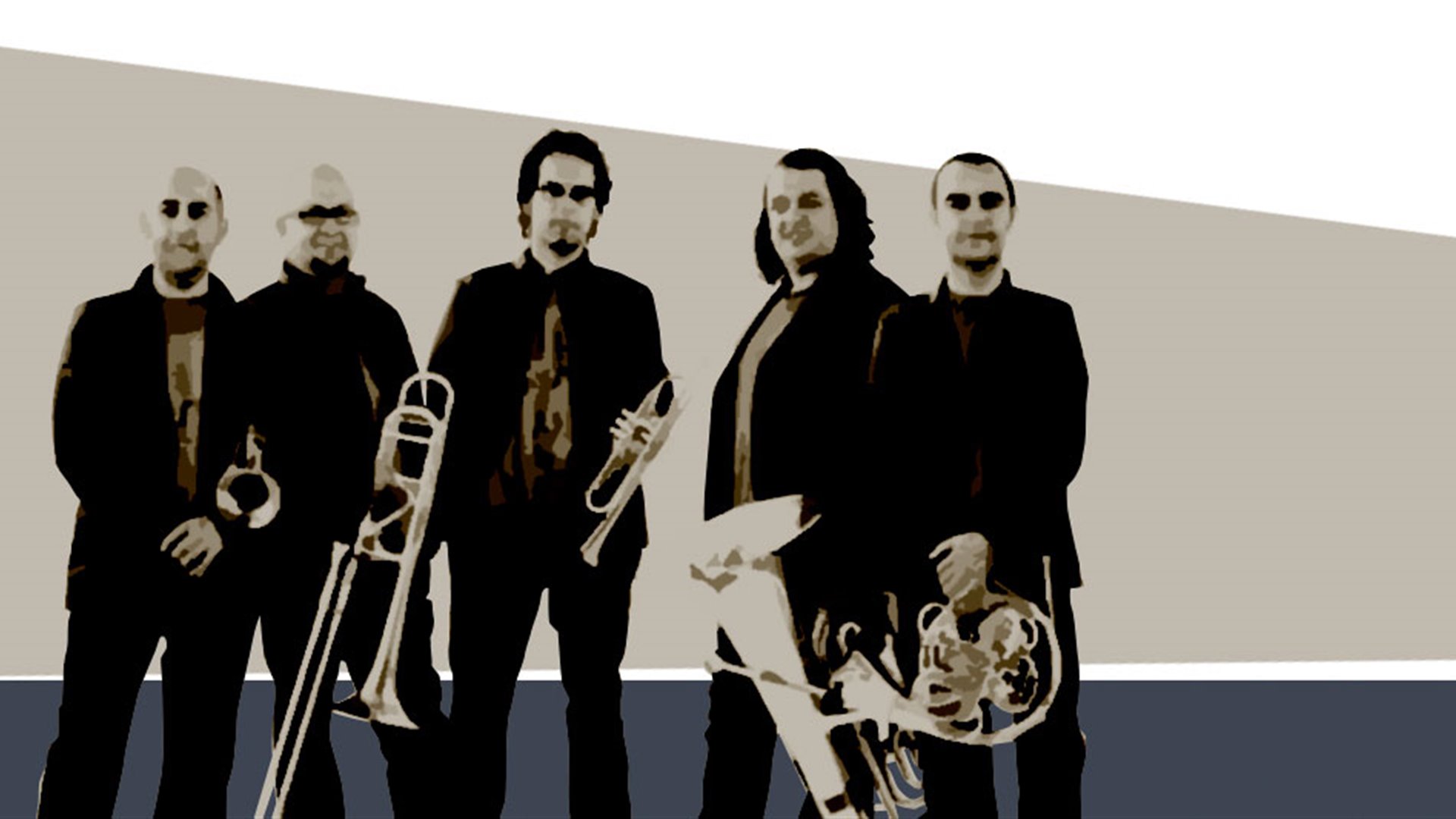 Premieres and (Re)premieres
Premieres and Re-Premieres (84) Spanish Brass Luur Metalls
The event took place on
Spanish Brass Luur Metalls

.

Juanjo Serna

and

Carlos Benetó

, trumpet.

Manuel Pérez Ortega

, horn.

Sergio Finca

, tuba.

Inda Bonet

, trombone


Inda Bonet

interviewed by

Juan Manuel Viana
This concert features one of the best-known Spanish contemporary-music ensembles. The program presents a sample from the Spanish repertory of recent decades composed for a unique ensemble: the brass quintet.
I

Josep Sanz Biosca

Vine, vine, Vinalesa

Antón García Abril (1933)

El vuelo del viento

Carlos Cruz de Castro (1941)

Colisión sonora

Ramón Cardó (1962)

Pentabrass

II

Xavier Montsalvatge (1912-2002)

Questions & Answers

Joan Guinjoan Gispert (1931-2019)

Vectoriel

Vicente Roncero (1960)

Collage

Emilio Calandín (1958)

Frammenti cinco
Spanish Brass Luur Metalls

Con una trayectoria de más de 20 años, es uno de los quintetos más dinámicos y consolidados del panorama musical español. Además de haber participado en algunos de los festivales más importantes de música y de realizar giras por todo el mundo. Ha grabado la música de la obra teatral La Fundación de Buero Vallejo para el Centro Dramático Nacional y la banda sonora de la película Descongélate, de Félix Sabroso, para la productora El Deseo. Ha publicado quince trabajos discográficos, entre ellos un DVD-CD y un doble CD recopilatorio: Luur-Metalls Spanish Brass Quintet (1996), No Comment (1998), La Escalera de Jacob (2000), SPANISH BRASS Luur Metalls & Friends (2001), Delicatessen (2002), Caminos de España (2003), Absolute con Christian Lindberg y Ole E. Antonsen (2004), Gaudí'um (2005), Metàl.lics (2006), Retaule de Nadal con el Orfeó Valencià Navarro Reverter (2006), SBALZ Brass Ensemble (2007), Brass and Wines con Steven Mead (2008) y Brassiana con Lluís Vidal Trio (2008), The Best of Spanish Brass (2009) y SBLM (2009). Organiza dos festivales dedicados a los instrumentos de metal: el Festival Spanish Brass–Alzira (www.sbalz.com) y el Festival BrasSurround Torrent (www.brassurround.com. Para más información www.spanishbrass.com.
José Luis Besada

Tras titularse como músico (Real Conservatorio Superior de Música de Madrid), matemático (Universidad Complutense de Madrid) y musicólogo (Paris 8), José L. Besada defendió su tesis doctoral (cotutela Paris 8-UCM) en 2015. Ha sido profesor asociado en la Sorbona en 2016 y ha tenido contratos posdoctorales en París en el Institut de Recherche et Coordination Acoustique/Musique (IRCAM, 2015-2016), en la Universidad de Estrasburgo (2017-2019) y en la Universidad Complutense (2020-2021), este último gracias al programa de Atracción de talento de la Comunidad de Madrid. Entre sus publicaciones destaca Metamodels in Compositional Practices: The Case of Alberto Posadas's Liturgia Fractal, primer libro de un autor español editado por el IRCAM, y ha publicado en revistas de impacto como Organised Sound, Tempo, Perspectives of New Music y Contemporary Music Review. En esta última ha sido co-editor de un doble número sobre la música contemporánea española, Spain beyond Spain: Contemporary Spanish Music in a Global Context (2019), la publicación científica más extensa sobre este tema en inglés. José L. Besada es también divulgador musical, destacando su colaboración con RNE – Radio Clásica desde 2017, presentando dos emisiones semanales sobre música contemporánea: Música viva y Miramondo múltiplo.