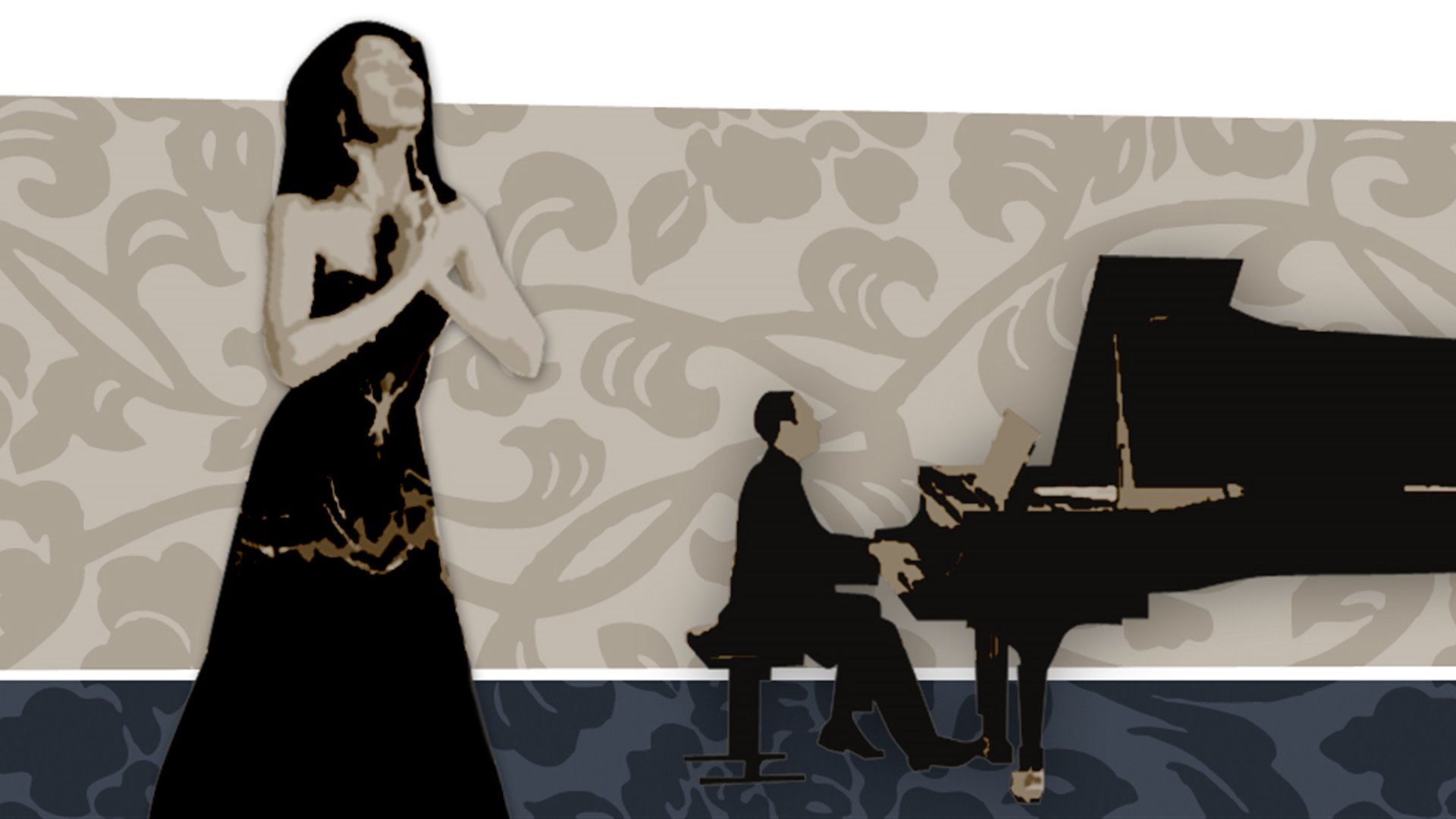 Premieres and (Re)premieres
Premieres and Re-Premieres (85). Postwar Songs. Elena Romero and Antonio Fernández-Cid Legacies
The event took place on
Prior interview at
Anna Tonna

, mezzosoprano.

Jorge Robaina

, piano


Germán Gan

interviewed by

Juan Manuel Viana
This new session of Premieres and Re-premieres exclusively consists of songs composed in Spain roughly between 1940 and 1960. The country's complicated political and social situation during this period undoubtedly explains why the vocal repertory composed during the central years of the twentieth century is largely unknown, especially in comparison to songs from the beginning and later parts of the century. This concert will present a selection of little-known and even hitherto never-performed songs from these years by composers including Conrado del Campo, José Sánchez Gavito and Julio Gómez. To celebrate the recent donations of the personal libraries of the composer Elena Romero (1907-1996) and Antonio Fernández-Cid (1916-1995) to the Fundación Juan March, the concert will also focus on songs by the Madrid-born composer and those dedicated to the music critic.
I

José Muñoz Molleda (1905-1988)

Miniaturas medievales (G. Diego)

Elena Romero (1907-1996)

El cantar (Poema de Manuel Machado)
Madrugada (Poema de Juan Ramón Jiménez)
Anteprimavera (Poema de Juan Ramón Jiménez)
Quequita (Poema de R. Villaseca)

José Sánchez Gavito (1887-1954)

Canciones nobles (Poemas de Carlos Baudelaire)

Conrado del Campo (1878-1953)

Me muero niña (J. Alvarez Quintero)
Epitalamio para una hija (J. Mª Pemán)
Canciones Castellanas: IV. Ayer noche vino el lobo (E. de Mesa)
Canciones Castellanas: V. Sin caballero (E. de Mesa)

II

Gerardo Gombau (1906-1971)

Cantiga da vendima

Narcís Bonet Armengol (1933-2019)

Eugenia, Tannka XIII (Poema de Carles Ribas)
Nit d´Abril (Poema de Joan Maragall)
Per la boira (Poema de Joan Maragall)
Comença la tardor (Poema de Joan Maragall)

Matilde Salvador (1918-2007)

Cancionero de la enamorada (Poemas de Carmen Conde)

José Peris Lacasa (1924-2017)

Cántico de la esposa
La guitarra

Manuel Palau (1893-1967)

Del oriente lejano

Julio Gómez (1886-1973)

Poesías japonesas (Traducción de Díez Canedo)

Antonio Iglesias (1918-2011)

Ao lonxe, de Canciones gallegas. Dedicadas a Antonio Femández-Cid

Manuel Castillo (1930-2005)

Canzón pra Virxe que fiaba (Antonio Tovar). De Canciones gallegas. Dedicadas a Antonio Femández-Cid

Xavier Montsalvatge (1912-2002)

Meus irmans (Ramón Cabanillas), de Canciones gallegas. Dedicadas a Antonio Femández-Cid

Cristóbal Halffter (1930)

Panxoliña, de Canciones gallegas. Dedicadas a Antonio Femández-Cid

Fernando Remacha (1898-1984)

Nouturnio, de Canciones gallegas. Dedicadas a Antonio Femández-Cid
Anna Tonna

Formada en el Mannes College of Music, combina una distinguida carrera como cantante de ópera con su dedicación a la música de España y Latinoamérica. Debutó en el Alice Tully Hall de Nueva York en la opera Guglielmo Ratcliff de Mascagni en 2004. También ha cantado en la Opera Illinois, New Jersey State Opera, Orquesta Estatal de Bacau (Rumania), Connecticut Grand Opera, New York Grand Opera, Teatro Nacional de Santo Domingo y New Rochelle Opera. También ha realizado recitales en el Lincoln Center y en la Hispanic Society of America, ambas en Nueva York y en el Festival Casals de Puerto Rico en el 2009. Ha recibido numerosos premios y reconocimientos. Como becaria Fulbright en España (2007-2008) realizó un estudio de las obras para voz y piano del compositor español Julio Gómez en la Fundación Juan March de Madrid. Su disco Las canciones de Julio Gómez, acompañada por el pianista Jorge Robaina, ha sido recientemente publicado por el sello Verso. En España ha cantado en el Auditorio Nacional de Madrid (la ópera The Magic Opal de Albéniz), en el Otoño Cultural Iberoamericano de Huelva, en Música en Compostela, en los Ateneos de Madrid y de Barcelona, y en la Escuela Superior de Canto bajo el marco de Project Canción Española, entre otros lugares. Más información en www.annatonna.com/

Jorge Robaina

Nacido en Las Palmas de Gran Canaria donde comenzó sus estudios musicales. Completó su formación en el Conservatorio Estatal en Viena. Ha obtenido, entre otros, el premio "Pegasus" y la bolsa premio "Bosendorfer" en Viena, "Coleman" en Santiago de Compostela, Juventudes Musicales de España y dos veces el premio al mejor pianista acompañante de la Fundación Jacinto Guerrero. Ha actuado en los principales auditorios europeos, recientemente ha debutado en el Carnegie Hall de Nueva York. Como solista ha colaborado con importantes orquestas españolas y europeas. Graba habitualmente para RNE y TVE. Realizó las primeras grabaciones mundiales del Concierto para piano de Falcón-Sanabria, de Nostálgico para piano y orquesta de Carmelo Bernaola y del Concierto para dos pianos y gran orquesta de Ángel Martín Pompey, junto a la pianista Marta Zabaleta. Obtiene el premio de la revista Ritmo por su disco de música para piano de Guridi y el Padre Donostia. Ha grabado, entre otros, el disco diez autores diez junto a Raquel Lojendio y Alfredo García. Es profesor de repertorio vocal en la Escuela Superior de Canto de Madrid desde 1991, e imparte regularmente clases magistrales de piano y repertorio vocal en distintos puntos de España. Colabora habitualmente con importantes cantantes.
Germán Gan

Doctor en Historia del arte-Musicología por la Universidad de Granada, con una tesis sobre la estética musical del compositor Cristóbal Halffter. Entre sus publicaciones más relevantes se cuentan estudios sobre la recepción en España de la obra de Messiaen, Stravinsky, Hindemith y Gerhard –para las editoriales Ashgate y Brepols y la Revista catalana de musicología, respectivamente–, el cuarteto de cuerda española contemporáneo (Peter Lang) y las relaciones entre vanguardia musical y abstracción pictórica durante el franquismo (Brepols). Ha elaborado aproximaciones musicológicas a compositores como Benet Casablancas, Ramon Lazkano, Elena Mendoza, José María Sánchez-Verdú o Mauricio Sotelo. Es, además, responsable del capítulo dedicado a las vanguardias musicales de posguerra en el séptimo volumen de la Historia de la Música en España e Hispanoamérica (Fondo de Cultura Económica) y coeditor, junto a Gemma Pérez Zalduondo y Jordi Ballester, de los volúmenes Music and Francoism y Music Criticism 1900-1950 (Brepols). En la actualidad, es profesor titular en el Departament d'Art i de Musicologia de la Universitat Autònoma de Barcelona y vicepresidente de la Sociedad Española de Musicología (SEdeM).