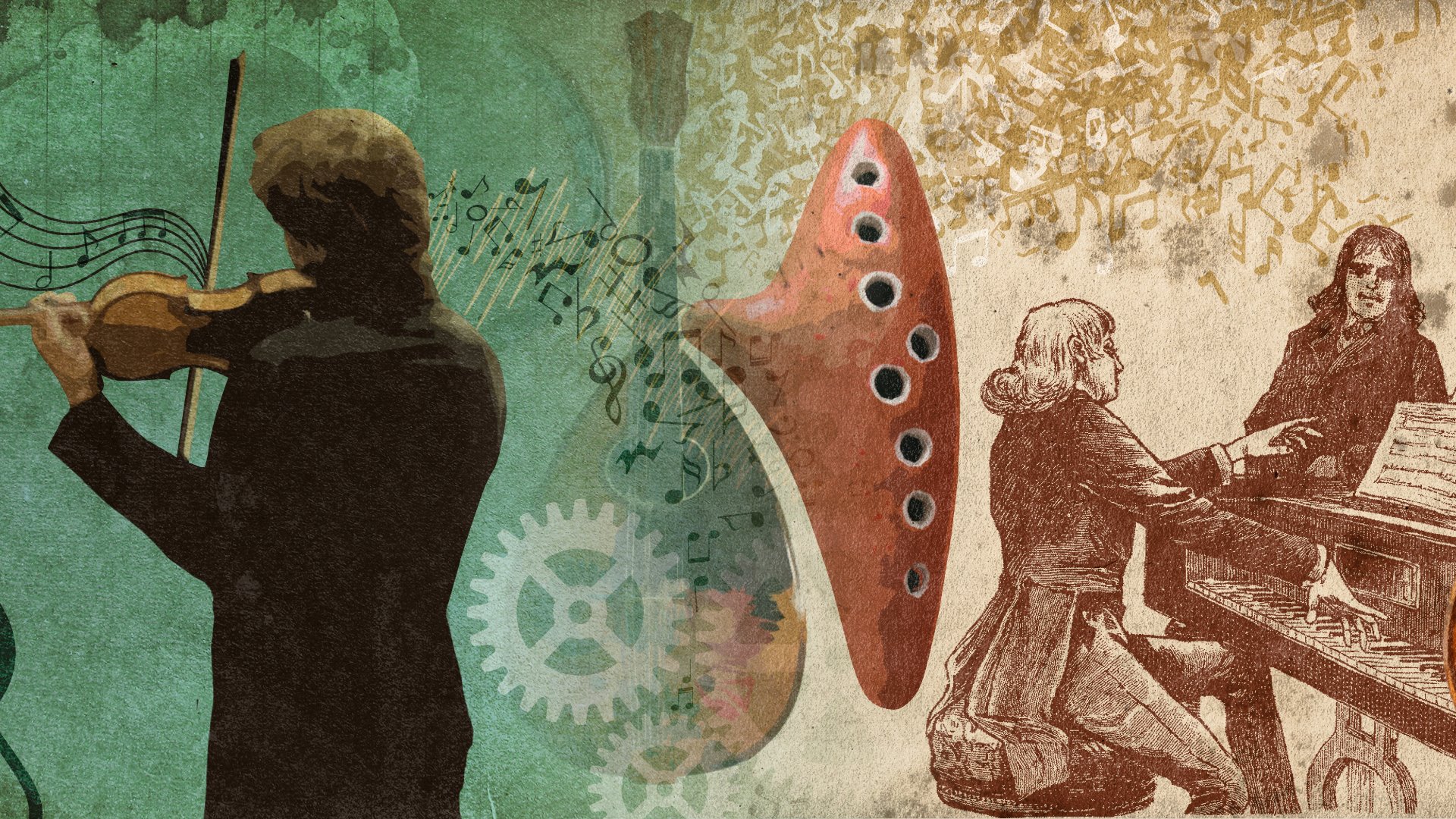 Saturday Concerts
Family Concerts 2014
Noise - Machines - Music
The event took place on
Antonio Martín Aranda

, box drum, marimba and percussion.

Fernando Palacios

, presenter.

Rubén Russo

, piano
The evolution of machinery and means of transport have broadened the soundscape, inspiring numerous composers. The frontiers between sound, music and noise are not always as clear as has sometimes been thought. At the hands of a pianist and a percussionist, this concert explores the relationship between the mechanical rhythm of machinery and the timbral richness of the environment surrounding us with diverse musical creations.
Siegfried Fink (1928-2006)

Trommel Suite (selection)

Johann Sebastian Bach (1685-1750)

Invención en Fa mayor BWV 779

Leo Ornstein (1893-2002)

Suicide in an airplane

Antonio Martín Aranda (1990)

Acompañamiento de percusión para imágenes de la película "Berlín 1945", de Yuri Raizman

Sergei Prokofiev (1891-1953)

Toccata Op. 11

Keiko Abe (1937)

Wind in the Bamboo Grove

Francis Poulenc (1899-1963)

Promenades FP 24 (selection)

Ernesto Lecuona (1896-1963)

Danzas afro-cubanas, Suite para piano (selection)
Antonio Martín Aranda

Comenzó sus estudios musicales en la Escuela Municipal de Música "Santa Marina" de Magán (Toledo) y posteriormente se formó en los conservatorios de Toledo y Madrid. Completo su formación con el Máster en Interpretación Solista en el Centro Superior Katarina Gurska de Madrid con el profesor Juanjo Guillem. Antonio Martín Aranda ha colaborado con la Orquesta RTVE, la Orquesta y Coro de la Comunidad de Madrid (ORCAM) y la Orquesta de Extremadura (OEX) y ha pertenecido a la JONDE. Como solista, hay que destacar su participación en los conciertos para escolares de la Fundación Juan March en la temporada 2015-2016 y su actuación en el ciclo "Todos a la Gayarre" del Teatro Real de Madrid en el año 2015. En la actualidad, es percusionista de la Orquesta y Coro Nacionales de España (OCNE) desde 2017 y miembro fundador de BOOST Grupo de Percusión.

Rubén Russo

Rubén Russo (Madrid, 1997) se ha formado con Claudio Martínez Mehner, Ana Guijarro, Luca Chiantore, Ángel Gago, Piotr Paleczny o Leonel Morales, entre otros. Ha actuado en salas como el Auditorio Nacional de Música, los Teatros del Canal, el Colegio Mayor San Juan Evangelista o el Ateneo de Madrid, el Auditorio Manuel de Falla de Granada, el Palacio de la Audiencia de Soria y el Auditorium de Palma de Mallorca, entre otras.

Ha sido premiado en numerosas competiciones de piano, como el Concurso Yamaha-Hazen, el Concurso internacional Pequeños Grandes Pianistas de Sigüenza, el Concurso internacional María Herrero de Granada, el Forum Musical de Jaén, el II Concurso Internacional de Piano Villa de Madrid o el concurso Julio García Casas de Sevilla. Ha actuado como pianista con la Orquesta Sinfónica de la Universidad Carlos III de Madrid, bajo la dirección de Manuel Coves.
Fernando Palacios"Vivir es inventar". Esta idea ha dirigido los actos de Fernando Palacios en la composición (música sinfónica, de cámara, electroacústica, canciones), la interpretación (gregoriano, trompetilla de plástico, guitarrico, instrumentos informales), la educación musical (conciertos, cuentos musicales, cursos, asesorías), las artes escénicas (conciertos didácticos, óperas, ballets, espectáculos multidisciplinares, talleres), los medios de comunicación (RNE y TVE) y la edición (colecciones de disco-libros, libros de recursos). Trabaja en el Teatro Real (Todos a la Gayarre), CNDM (Todos creamos), Fundación Juan March (Recitales para jóvenes), Escuela Reina Sofía (Cursos de Emprendimiento), SUR (Máster en Profesiones Artísticas), Universidad Carlos III (Máster de Producción Musical), Escuela Arcos (El Arte de Escuchar), Festival de Santander, Festival de Canarias, RNE (Entre dos luces) y con orquestas sinfónicas españolas y latinoamericanas.