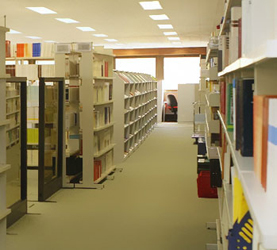 Scientific research activity is specifically conducted by the Juan March Institute for Study and Research, established by Juan and Carlos March in 1986 as a private foundation of public interest to complement the cultural work of the Juan March Foundation. The aim of this non-profit institution, nationwide in scope, is to foster postgraduate research and study in any field of knowledge by means of advanced study centers in various areas.
From 1991 to 2005 activities were carried out by the Center for International Meetings on Biology (CRIB). The Center for Advanced Study in the Social Sciences (CEACS), now a part of the Carlos III/Juan March Institute for Social Sciences of Carlos III University of Madrid, has done so since 1987.
In its first phase CEACS concentrated on educating scholars in social and political sciences via master's and doctorate programs, overseeing nearly a hundred doctoral theses. Since 2007 its activity has focused on postdoctoral research, with researchers contracted via international application procedures, and the holding of academic conferences, permanent seminars and methodological workshops, thus forming an international academic community.
Since September 2013 CEACS has been integrated in the aforementioned joint institution, the Carlos III/Juan March Institute for Social Sciences of Carlos III University of Madrid, based at the Getafe campus. Plans call for it to become a full institute of that university within the next six years.
Through the Grants and Specialized Plans for Assistance, awarded by the Foundation between 1957 and 1988, more than 5,800 Spaniards expanded their studies, carried out scientific research in diverse fields, and realized works of artistic, literary, and musical creation in both Spanish and foreign centers.
As from 2000 through 2002, the Fundación Juan March had awarded three Grants for Essential Research in the area of biology, each in the amount of 901,518 Euros, to support the work of a Spanish scientist of note under the age of fifty.
These Grants for Essential Research were awarded to José López Barneo (2000), Jorge Moscat (2001) y Francisco Sánchez Madrid (2002).