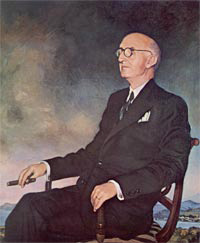 Portrait of Juan March
by Ignacio Zuloaga
Juan March Ordinas
Was born on October 4, 1880, in Santa Margarita (Mallorca) and died in a car accident on March 10, 1962, near Las Rozas (Madrid).
Creator of a large management and financial group, in 1926 he founded what would later come to be known as the Banca March in Palma de Mallorca.
On November 4, 1955, he established in Madrid the Fundación Juan March —of which he was the first president— as a charitable teaching institute, &quotwith the aim of contributing to the knowledge and solution of problems that affect the future of humanity... to the progress and dissemination of knowledge and, within that, to the study of man and society."
Juan March Ordinas married Leonor Servera Melis and of this marriage was born Bartolomé March Severa and Juan March Severa, the latter second president of the Fundación Juan March, who died in 1973. As of December 20, 1973, the president of this institution has been his son, Juan March Delgado, grandson of the founder.
For more information, please check the entry Juan March Ordinas in the Royal Academy of History's Biographical Dictionary (in Spanish).