The building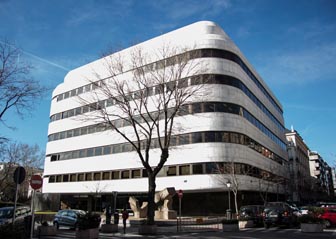 Located in a central area of Madrid, the Juan March Foundation headquarters building was opened in 1975. With a total built area of 18,000 square metres and 1,700 square metres of garden, the building was designed and decorated by Spanish architect José Luis Picardo.
Designed as a modern cultural centre, it has two events rooms with simultaneous translation facility, closed circuit television, exhibition halls, libraries and a room for scientific discussions.
A large, 50 square metre mural occupies the wall at the end of the entrance foyer to the two events rooms. It features an allegory of Laocoon, the Trojan priest who was killed by serpents, and was created by Spanish artist Joaquín Vaquero Turcios. A collection of paintings and sculptures by various Spanish artists is on display in the gardens and inside the Foundation building.
In 2009 the exhibition spaces were renovated and the ground floor layout reorganised by architects Juan González de las Cuevas and Aurora Herrera.